09 Sep

ZAMRI WANTS BETTER OUTCOME AFTER AUTOPOLIS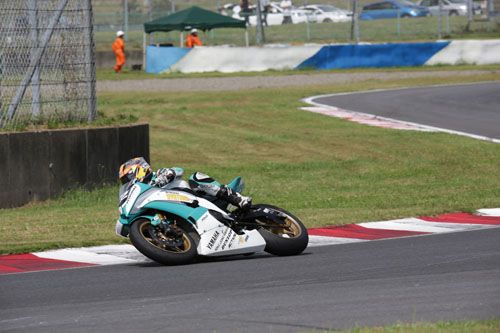 Malaysian hopeful Mohd Zamri Baba of team PETRONAS Hong Leong Yamaha remains optimistic despite the absence of a Supersports 600cc podium finish in the fourth round of the PETRONAS Asia Road Racing Championship, here in Autopolis International Race Course, Japan.
Returning to ARRC after sustaining his momentum in the MFJ All Japan Championship, Zamri started off on a good note starting his race on fourth grid behind leader Katsuaki Fujiwara, Ryuichi Kiyonari and Yuki Ito.
Claiming lack of time affecting his bike setup pre-race, Zamri had a mediocre contest in Race 1, landing himself in fifth position (total time 19'23.485s) behind Kiyonari. "I came here all geared up but saw myself making a great deal of effort to be content with the machine setup", said Zamri, still positive he could prove better results. He trailed off winner Fujiwara with roughly a 7 seconds gap.
Zamri luckily made respectable development in Race 2, slightly missing a podium spot concluding his race in fourth position. With a best lap of 1'54.969s of the 10 laps race, Zamri gave third place winner Azlan Shah Kamaruzaman a tough time swapping ranks throughout the race especially in Lap 9 and 10. With that he ended his run in 21'17.983s.
"The volcanic high grounds of this track have always been nightmarish for me. A number of crashes in previous races indicated that I have to play it safe at the same time battle for position which proved to be quite demanding. It was an average race for me. With sufficient time and a little bit of fine tuning from a more prepared working party, I should be able to return to the podium next time around", maintained Zamri confidently.
Zamri now stands in third position overall with 124 points behind chart leader Fujiwara and Kiyonari while PETRONAS Hong Leong Yamaha also sit comfortable in third for the Team Awards.
Separately, Hadi Wijaya continues to extend his lead by 70 points in the overall standings having bagged a double chequered flag in the Underbone 115cc category in Japan. The poleman bagged his fifth win for the season in an all out battle with Mohd Affendi Rosli, completing Race 1 within 15'27.946s, while the latter had to be content coming in second with a total time of 15'27.999s followed by Rey Ratukore third, 15'28.075s.
For Race 2 Hadi Wijaya kept a low profile for most parts of the race before going in for the kill in the final lap to bag his sixth chequered flag for the season with 15'30.486s. Malaysian, Mohd Afif Amran (CKJ Yamaha Racing) who had been trailing Hadi throughout the race had to settle for second with 15'30.545s, just 0.059 seconds off the winner's total time while compatriot, Mohd Amirul Ariff Musa registered third, 15'30.691s.