27 May

YAMAHA STABLE STIRS BANDAR MAKHOTA TRACK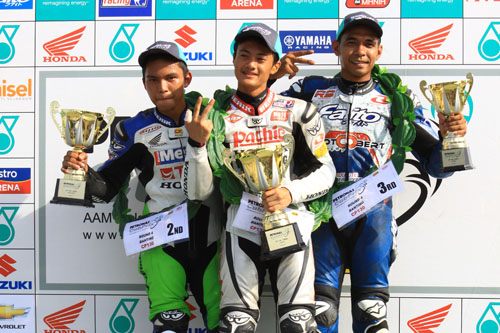 This time around the playing fields are laid reasonably just for the riders and teams to make or break. The practically new track in Bandar Mahkota, Banting, Selangor became the host for the fourth round of the 2012 PETRONAS AAM Malaysian Cub Prix Championship and the Yamaha teams gained good points after the heated Banting battle.
Ahmad Fuad Baharudin yet again climbed the podium steps when he repeated his physical prowess to capture third place for the premier CP130. Riding for Faito Motobert Racing, Fuad quickly secure a safe position upfront behind winner Mohd Zaqhwan Zaidi.
Though sticking firmly to Zaqhwan, the noticeably unfamiliar track gave one minor hiccup to Fuad when his second place position was stole by Mohd Fitri Ashraf Razali halfway through the race. The order stayed until the crossing line and Fuad got a good 13:49.585s sending him to the podium third place.
Fuad's teammate, Ahmad Fazrul Sham followed suit by being the fourth rider to finish the race. Fazrul, back from a podium win in Kangar, set constant pace throughout the race giving somewhat a respectable challenge on his Yamaha machine. Fuad made this in time of 13:55.784s.
The reserved Mohd Ramdan Mohd Rosli became the sixth rider to see the chequered flag just slightly behind fifth place winner Mohd Affendi Rosli. Ramdan, riding for PETRONAS Syntium Moto Yamaha AHM did 13:59.425s. Others like Mohd Taufiq Roslan of Yamaha Maju Motor Racing and Mohd Zamri Baba of PETRONAS Syntium Moto Yamaha Raceline got eighth and eleventh place respectively.
Current standings has Fuad in third place with 54 points, Fazrul in fifth with 46 points and Mohd Taufiq Roslan in seventh with 33 points. Ramdan has 32 points in ninth while Zamri has 24 points in twelfth position.
The CP115 category brought glory to the Yamaha stable as Mohd Iskandar Raduan finished on top podium spot leaving the rest solemn behind. Iskandar who rides for PETRONAS Syntium Moto Yamaha AHM shot his way up from third on the grid and ended the race with chequered flag in hand, 11:12.625s.
Gong Badak's winner Shahril Izzuwan Mohd Noor repeated his podium win albeit this time in third place. Shahril maintained his poise and stick to his line behind later nominated second place winner Mohd Amirul Ariff Musa.
Iskandar tops the overall chart with flying colours collecting a whopping 78 points while Ahmad Abdul Kadir of Apido Yamaha Boon Kui Racing stays in second place with 59 points and Shahril fourth, 50 points.
he boys for the Wira category had another go at sharpening their skills when Kangar's champion Mohd Hafiz Nor Azman of Team Mos Track Pro Yamaha Racing won second place despite earlier starting first on the grid while Tengku Amirul Haffiruddin excels by grabbing third place. Winner for this class was Fakhrusy Syakirin Rostam.
Hafiz still has an 81 lead in the overall standings leaving Faqkhrusy in second while Mohd Izzat Zaidi Mohd Salehan of Motul Yamaha YY Pang Racing got third place with 49 points.
As for the Yamaha 135 Super Series PETRONAS, the crowd cheers for all three finishers including podium first timer Mohd Azrul Alif Mohd Yusof. First was the talented Izzat while Tengku Amirul close behind, second.
The unknown and relatively new track became alive when sounds of Cub Prix machines roared over the Banting air and as Yamaha teams gather their spirits for another go in this season, the riders stayed true to their core mission, to win and be crowned champion.