23 Sep

TAUFIQ THIRD IN KLUANG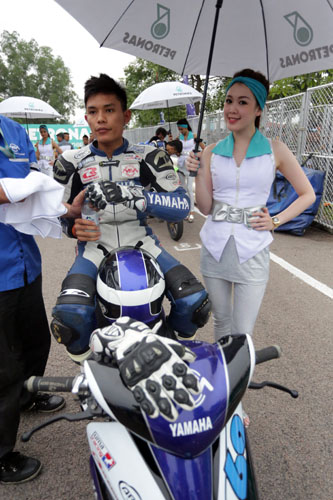 What a week for Yamaha. Mohd Taufiq Roslan took third place in the CP130, Mohd Shariffudin Shamsuddin, Ahmad Afif Amran, Mohd Adib Rosley, Mohd Hafiz Nor Azman and Tengku Amirul Haffiruddin showed Yamaha spirit in their respective classes for Round 7 of the PETRONAS AAM Malaysian Cub Prix Championship in Kluang, Johor.
Taufiq of Yamaha Maju Motor Racing played his cards well sweeping through the tight corners ending his day with 12:02.319s while senior, Ahmad Fuad Baharudin made Kluang his when he completed his run with 12:01.586s in first place, about a second ahead of Azlan Shah Kamaruzaman.
Taufiq's teammate, Abdul Muhaimin Roslan made it to fifth position while championship contender Ahmad Fazrul Sham was seventh. Probably not his day, Mohd Zamri Baba of PETRONAS Syntium Moto Yamaha Raceline had to settle with ninth position due to a mishap in Superpole that resulted in him having to start from the back. Zulsyafiz Rosli of PETRONAS Syntium Moto Yamaha AHM finished behind Zamri.
Fuad now is in contest for championship climbing up to second place with 97 followed by Fazrul (91 points). Taufiq is in seventh place while Zamri (56 points) and Mohd Ramdan Mohd Rosli (41 points) is in eighth and eleventh place correspondingly. Faito Motobert Racing now has 188 points, second place in Team Awards.
Continuing the Yamaha success was Shariffudin of CKJ Yamaha Racing Team. His very first top-podium win this season, Shariffudin had his team to thank, "I'm in high spirits with this win. My team mechanics prepared my machine up to the track standards and it paid off".
His associate Ahmad Afif Amran sealed a one-two finish for the team, bringing much delight to their hard work the whole season. Another rider, Mohd Adib Rosley from Motul Yamaha YY Pang Racing wrapped Yamaha's podium domination for this class in third position.
PETRONAS Syntium Moto Yamaha Raceline rider Mohd Hafieenaz Mohd Ali secured fourth place ahead of championship challenger Mohd Amirul Ariff Musa and class leader Shahril Izzuwan of PETRONAS Syntium Moto Yamaha AHM got sixth position.
Shahril still stands on top of the list with 101 points while Shariffudin is in sixth (70 points). Adib is number eight (58 points) and Afif now has 52 points in number ten. Overall standings still sees PETRONAS Syntium Moto Yamaha AHM leading the pack with 176 while CKJ Yamaha Racing is in third with 126 points.
Who better to maintain the Yamaha supremacy other than Tengku Amirul, championing the Yamaha 135 Super Series PETRONAS category. Carrying on his good momentum from the qualifying, Tengku went ahead crossing the finish line uncontested.
He went in minor battle with Mohd Izzat Zaidi occasionally but his friend had to bow down come the finishing line. First time on the podium, Mohd Adam Mohd Norroddin to his delight came in third.
Usually the person that would break this pack would be Mohd Nasri Mohd Ishak but this time Nasri had bad luck on his side when a jumpstart cost him precious time, reducing him to seventh position. Mohd Izzat Zaidi though having ninth position still stands strong leading the overall chart with 154 points with Tengku behind with 136 points. Nurahmad Fariznazreen and Nasri is third and fourth.
It's clear that the break period coupled with the summer camp proved fruitful working out better riders for the Yamaha contingent. It is hoped that more positive results will surface for the remaining rounds this season.