11 Nov

MUHAIMIN THIRD IN SEPANG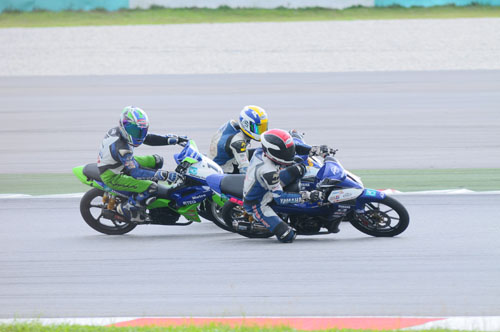 Yamaha Maju Motor Racing's Abdul Muhaimin Roslan stepped up his game in the penultimate round of the PETRONAS AAM Malaysian Cub Prix Championship to claim second spot in the hyper-competitive CP130 category at the Sepang International Circuit today.
Muhaimin completed the 15-lap race with total time 17'38.490s in an all-out battle against Affendi Rosli and teammate, Mohd Fitri Ashraf Razali who finished the race in first and second spot with 17'38.476s and 17'38.542s respectively.
Meanwhile, Azlan Shah Kamaruzaman went on to seal the CP130 crown coming in fourth with 17'38.581s after title contenders, Ahmad Fuad Baharudin retired from the racee due to technical issues while Zaqhwan Zaidi crashed together with Norizman Ismail.
"Feels great to get on the podium again. This season has been extremely tough for us because we were overwhelmed by a lot of technical issues. Hopefully, we can bring the same momentum in the season finale at Batu Kawan this weekend," said Muhaimin.
In the CP115, Mohd Shariffudin Shamsuddin put on a great show to finish the race second behind Mohd Amirul Ariff Musa followed by Haiekal Akmal Zakaria. Sharifuddin of CKJ Yamaha Racing timed 13'53.996s while Amirul won the race with 13'53.823s and Haiekal Akmal Zakaria third, 13'53.999s.
Picking up 25 points from this leg, Amirul steals the CP115 lead with 129 points from defending Champion, Shahril Izzuwan Mohd Noor (PETRONAS Syntium Moto Yamaha AHM) who finished 14th.
Meanwhile a twist of events took place in the age-cap WIRA class as Tengku Amirul Haffiruddin over-powered rivals including title favourites, Fakhrusy Syakirin Rostam and Mohd Hafiz Nor Azman to be the first rider to reach the chequered flag.
Tengku Amirul of Motul Yamaha YY Pang clinched his first Wira win in the final seconds of the race with a total time of 12'50.043s s followed by Faito YSP Racing's Hafiza Rofa and Che Ku Amriq Asyraff of CKJ Yamaha Racing second and third, 12'50.105s and 12'50.361s respectively.
Fourth placer, Hafiz now leads the WIRA standings with 165 points after coming in fourth while Fakhrusy who did not qualify for the final race has dropped down to second with 158 points.