06 Dec

HAFIZ 12TH FASTEST IN YACR PRACTICE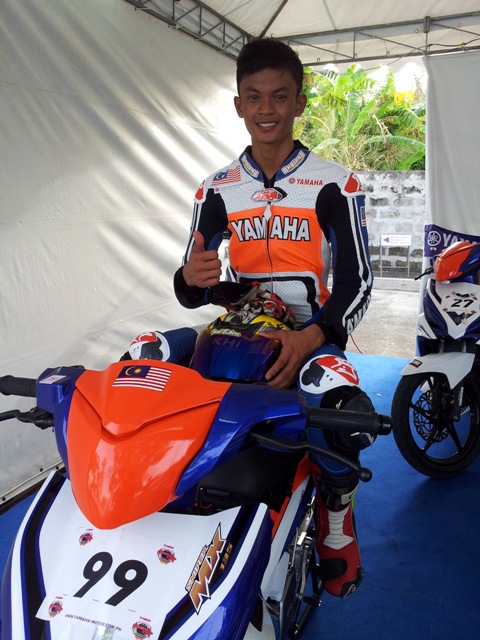 The Malaysian contingent competing in the annual Yamaha Asean Cup Race (YACR) suffered a poor outing during the opening practice in Manila, Philippines today with Mohd Hafiz Nor Azman appearing fastest of the lot.
The 2012 WIRA Champion taking part in the Manual Transmission (MT) class found himself disapointed to come in 12th fastest overall with a best lap time of 1'00.707s against a field of 24 riders and he is hoping to further improve his lap time in the qualifying sessions tomorrow.
Meanwhile senior, Mohd Taufiq Roslan who logged 1'01.194s came in 13th fastest followed by Shariffuddin Shamsuddin 14th, 1'01.318s.
Setting the benchmark was Prawat Yannawut. The Thai national who is also an active contender in the PETRONAS Asia Road Racing Championship (ARRC) Underbone 115cc category timed 00'59.225s.
"The environment is extremely different compared to Cub Prix. Here the race is held on concrete cement while back home we race on actual roads transformed into race tracks. Furthermore, the layout is very narrow and technical," reflected Hafiz on his outing today.
He went on to add, "Even the tyres are different. The Indonesian and Thai riders are more used to it and this gives them the advantage. This means we will have to work extra hard and fast to adjust riding with these tyres if we want to bag strong results. Hopefully, our resuts will be much better in the qualifying tomorrow," said Hafiz who teams up with Taufiq, Shariffuddin, Ahmad Afif Amran and Zulsyafiz Rosli in the MT class.
Meanwhile, Malaysians taking up the Automatic Transmission (AT) challenge had a bad run as well. Mohd Rozaliman Zakaria registered 12th fastest for the day with 1'03.380s followed by Amirul Hakim in 16th place (1'03.916s) and Che Ku Amriq Che Ku Junaidi 17th, (1'04.256s).
Leading the AT timesheets was Thai rider, Anupad Samoon with 1'01.365s.
The qualifying session will start on Friday, December 7 and will culminate with Race Day on Saturday, December 8, 2012.