26 May

GOOD START FOR YAMAHA CONTINGENT ON UNFAMILIAR BANTING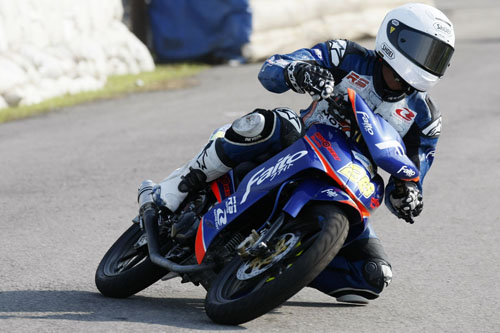 After a few weeks away from the track, Yamaha riders and teams are back at it again in the fourth instalment of the 2012 PETRONAS AAM Malaysian Cub Prix Championship. Held this time in Bandar Mahkota, Banting, Selangor, the championship continues to succeed displaying raw talents and passion into racing.
First up is the premier CP130 category. Podium duo from last round's leg Ahmad Fuad Baharudin and Ahmad Fazrul Sham double-teamed to grab top spot for fastest lap in the timed practice session. Both carved their laps under the 55 second mark ahead of the rest.
Fuad of Faito Motobert Racing did his best time on lap five in 54.704s while his teammate Fazrul did 54.957s in his fourth lap. Both riders were seen ecstatic to repeat Round Three's winning formula this time around.
Mohd Ramdan Mohd Rosli meanwhile grabbed the sixth fastest lap time (55.538s) behind Mohd Zaqhwan Zaidi, Mohd Affendi Rosli and Norizman Ismail. The PETRONAS Syntium Moto Yamaha AHM rider looked thoughtful to do further tweaking to his machine for Sunday's race.
Just slightly behind Mohd Fitri Ashraf Razali, PETRONAS Syntium Moto Yamaha Raceline's Mohd Zamri Baba set himself up to be the eighth fastest man on this session as he rounded up his twelfth lap with time of 55.663s. Zamri who secured fifth place in Kangar appeared composed to give a challenge in the finals.
Abdul Muhaimin Roslan followed closely as his ninth lap was recorded as the ninth fastest for the day's session. Muhaimin or Along of Yamaha Maju Motor had his time checked under 55.736s, just ahead of teammate Mohd Taufiq Roslan who had 55.793s under his belt.
The CP115 class showed improvements too as the Yamaha riders fared well despite riding in the new environment. This time Mohd Iskandar Raduan of PETRONAS Syntium Moto Yamaha AHM held the best Yamaha lap record behind fastest for the day, Mohd Amirul Ariff Musa.
The Batu Kawan champion set his sixth lap to be his fastest at 55.959s. The way things are going for him, Sunday's race might prove another win for this talented rider. Next up was Mohd Azhar Abdul Jalil of Motul Yamaha YY Pang Racing. Azhar who closed his day as the second fastest Yamaha rider set his time at 56.067s.
Third fastest Yamaha was Ahmad Abdul Kadir fo Apido Yamaha Boon Kui Racing (56.082s), Iskandar's teammate and Gong Badak's champion Shahril Izzuwan Mohd Noor (56.177s) and Ahmad Afif Amran of CKJ Yamaha Racing (56.500s).
The Wira boys also showed potential in Saturday's Timed Practice session as Team Mos Track Pro Yamaha Racing rider Mohd Hafiz Nor Azman became the fastest man around. He made his seventh lap recorded as the quickest in 56.350s.
Motul Yamaha YY Pang Racing rider Tengku Amirul Haffiruddin slotted in his time of 56.662s to be the second fastest for this session. Tengku made this in his fourth lap. Third fastest Yamaha was Che Ku Amriq Asyraff of CKJ Yamaha Racing Team with 56.964s.
The Yamaha 135 Super Series PETRONAS category had Nurahmad Fariznazreen as the fastest rider recorded for the session. Second quickest was a familiar face Mohd Izzat Zaidi. Amirul Hakim Mohd Rizal came close behind to be the third fastest for the Yamaha one make class.
As all rider and teams had to put more focus and extra effort to this round's unfamiliar grounds, the Yamaha teams and riders did well for the day's practice session and seeing the progress so far, Sunday's race will bring back the glory of Cub Prix after being away from the calendar for a few weeks.