09 Jun

CUB PRIX ROUND 4: RACE REPORT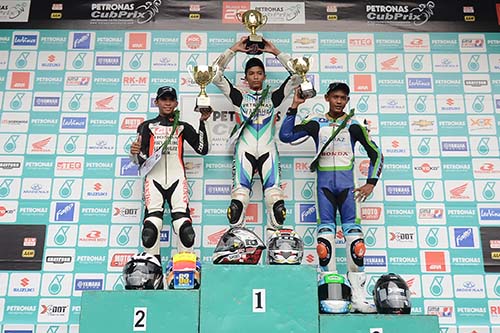 CP130
Round 4 of the 2013 PETRONAS AAM Malaysian Cub Prix Championshp wrapped up today with Mohd Zamri Baba exploding to his first CP130 win for the season at Stadium Sultan Ibrahim, Bandar Diraja Muar, Johor today.
The PETRONAS Yamaha – CKJ rider made full use of his front row start to quickly position himself behind poleman, Mohd Affendi Rosli at the start of the race before overtaking his rival in the fifth lap. Once ahead, Zamri started to pull away from the pack and eventually completed the race in first place with a total time of 12'45.917s.
Affendi on the other hand found himself overpowered by Mohd Ramdan Rosli (PETRONAS Syntium Moto Yamaha AHM) and Mohd Fitri Ashraf Razali who were really aggressive in the attempt to secure a podium finish.
Despite coming into contact with each other several times, Fitri got the better of his competitor towards the end of the 18-lap race, coming in second within 12'46.370s while Ramdan finished third, 12'46.580s.
Picking up 25 points from this leg, Zamri now sits in eighth place in the overall standings with 35 points.
Ahmad Fuad Baharudin (Faito Yamaha Motobert) on the other hand now takes lead of the standings with 64 points while Ramdan takes second spot with 59 points. Azlan Shah Kamaruzaman who pulled out of this weekend's race drops to third overall, 54 points.
CP115
PETRONAS Yamaha CKJ's Ahmad Afif Amran capitalized on Fakhrusy Syakirin Rostam's absence following a major crash in the qualifying earlier today to secure his first win for the season and further stretch his point led in the CP115 overall standings.
Even so, today's race was far from easy for the Terengganu born rider as he had to work hard to get ahead of defending Champion, Mohd Amirul Ariff Musa.
Despite the mounting pressure, Afif who stole the lead from Amirul in lap 11 kept his line strong to the finish line, ending the race within 10'42.183s while the latter came in second, 10'44.591s.
Meanwhile, Haiekal Akmal Zakaria struck gold to finish third with 10'48.170s after Sasitharen Sukumaran and Mohd Hafiz Nor Azman (PETRONAS Syntium Moto Yamaha AHM) collided at the last turn of the last lap.
Afif who now leads the CP115 standings with 81 points. Fakhrusy and Hafiz meanwhile find themselves at a tie with 50 points each in second and third place.
WIRA
In the WIRA race, Hafiza Rofa was denied possibilities of continuing his winning streak when Khairul Idham Pawi secured the checkered flag.
Even so, this did not stop the Warner Pump – YSP rider from going all out to finish on the podium in second place with 8'38.128s while Khairul enjoyed his first win for the season with a total time of 8'35.002s.
Despite not winning the 12-race at the 947 meter track, Hafiza still leads the WIRA standings with 95 points, while Khairul moves up to second overall from third with 61 points swapping places with Syafiq, 56 points.
Yamaha 135 Super Series PETRONAS
It looks like luck has finally ran out for Mohd Azam Omar when the Terengganu-born did not only crash so early in the race, he also missed another go for a perfect season on the podium when he could only finish 15th due to the crash.
Gearing up for this final race in Muar, Azam grabbed first grid position when he became fastest man on Timed Practice for the Yamaha 135 Super Series PETRONAS held for the 2013 PETRONAS AAM Malaysian Cub Prix Championship.
However, it was as if his number was up when Azam crashed out just in the first lap, giving way for Mohd Helmi Azman to make use of this rare situation. It has been seen in past races where Azam dominated each round with grace, not giving anyone a chance to lead.
The race minus Azam continued with new leader Helmi followed by Mohd Khairul Ikhwan Ajis and Mohd Fariz Ahmad Faizal.  Fariz however could not stay in position very long given the fact that another very talented rider, Kasma Daniel Kasmayudin was squeezing in from the back.
Kasma later found his spot safely in fourth by the time the race was over but from the looks of it, he might just make good use of his weight and talent to his advantage the next time around.
Finishing first, Helmi recorded a time of 7:32.855s, Khairul Ikhwan Ajis 7:33.045s and Saiful 7:45.363s in third place. In spite of the outcome, Azam still leads overall with 76 points ahead of Mohd Ibrahim Mohd Norrodin in second and Kasma Daniel in third.
For more info and results, please visit www.malaysiancubprix.com