07 Apr

CUB PRIX ROUND 1: RACE REPORT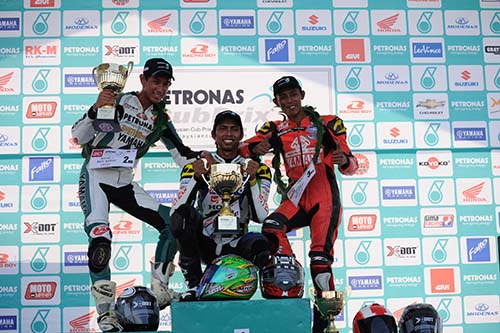 CP130
Mohd Ramdan Rosli bounced back from a disappointing campaign last year to start the brand new season of the PETRONAS AAM Malaysian Cub Prix Championship with a podium finish at Stadium Batu Kawan, Penang.
The PETRONAS Syntium Moto Yamaha AHM was the only rider who was able to contest race leader, Azlan Shah Kamaruzaman in the hyper-competitive CP130 race.
The youngster had high-hopes of overtaking his senior in the final five laps of the race but unfortunately, the race which now runs 18-laps (previously 15-laps) proved too much for his machine to take.
Nevertheless, Ramdan was excited to start off the year with a podium, most importantly, a strong pace. He settled for second place with a total time of 16'12.598s behind reigning Champion, Azlan Shah who timed 16'08.912s.
Senior rider, Ahmad Fazli Sham did the Yamaha camp proud as well to finish the opening round on the podium. The Yamaha Maju Motor rider came in third with a total time of 16'13.899s.
Azlan now leads the standings with 25 points followed by Ramdan 20 points and Fazli Sham 16 points.
CP115
Meanwhile, WIRA graduates, Tengku Amirul Haffiruddin of Motul Yamaha YY Pang Racing and PETRONAS Syntium Moto Yamaha AHM's Mohd Hafiz Nor Azman stunned the crowd in the CP115 class.
The duo stole the limelight from seniors, casting usual suspects aside with an extremely close battle to which Tengku Amirul came out on top with 13'45.874s having stole an early lead at the start of the race.
2012 WIRA Champion, Hafiz had to settle for second with 13'46.093s despite numerous attempt to steal lead. Third came PETRONAS Yamaha – CKJ rider, Ahmad Afif Amran, 13'47.681s.
WIRA
Warner-Pumps – YSP's Mohd Hafiza Rofa bounced back from a fruitless campaign last year to win the opening round for the age-capped WIRA class.
A smooth start and flawless riding style launched the 17-year old from third on the grid to first almost immediately and he went on to lead the race without much interruption, completing the 12 lap race with a total time of 11'16.603s.
Second came in Nurahmad Fariznazreen (Mos Track Pro Yamaha Racing) with and last season's Suzuki Belang Challenge Champion, Mohd Shafiq Rosli third with 11'21.711s and 11'22.705s respectively.
Yamaha 135 Super Series PETRONAS
Although still in his youthful years, Mohd Azam Omar made sure he is a force not to be reckoned with when donning a racing suit following his success winning the first leg in the 2013 Yamaha 135 Super Series PETRONAS.
Winner Azam stamped his time in 9:54.596s while first timer Kasma Daniel Kasmayudin had his at 9:59.553s.
Third place went to Mohd Iqbal Amri Abdul Malek while completing top five was Nazirul Izzat Mohd Bahauddin and Mohd Ibrahim Mohd Norrodin.
For more news and results, visit www.malaysiancubprix.com