17 Aug

ARRC RD03:RACE REPORT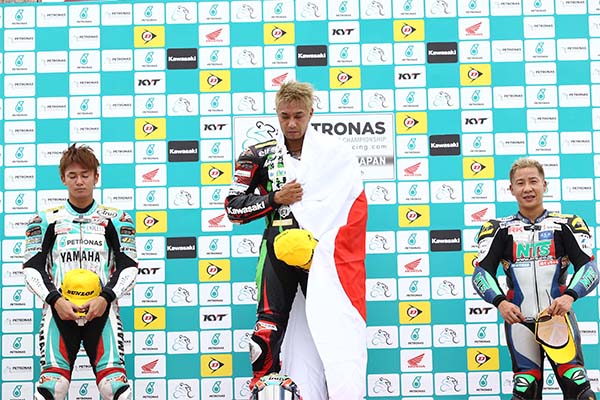 Japan's Yuki Ito and Ahmad Fazli Sham put on a brilliant performance in Round Three of the PETRONAS Asia Road Racing Championship as both riders secured the podium in the SuperSports 600cc and Underbone 130cc category under sunny conditions at the Autopolis International Race Course in Japan on Sunday.
A flawless start saw Yuki leap from fifth row to the front of the pack to finish Race 1 of the SuperSports 600cc category second place in 23'17.037s after a hard fought battle with compatriot Katsuaki Fujiwara, Mohd Zamri Baba, Zaqhwan Zaidi and Tomoyoshi Koyama.
All five riders took turns to lead before Fujiwara capitalized on home advantage to pull away from the pack towards the end of the 12-lap, crossing the finish line first with 23'16.911s while Koyama finished third with 23'15.466s.
Pumped up, Yuki targeted another podium in Race 2 at the Autopolis Circuit but his ambitions went up in smokes when he crashed out of the race in lap 4 after coming in contact with Zamri Baba.
Makoto Tamada went on to win the race with 23'15.047s ahead of teammate, Zamri with 23'15.312s in second place while Koyama finished third. Koyama's podium however was later disqualified after the team was found guilty of a technical infringement and Thailand's Jakkrit Swangsat was promoted to third (23'15.688s).
The Underbone 130cc was just as exciting when Japan's Kazuki Masaki proved to be a dominant force in Race 1, leading from start to finish within 18'23.079s. Completing the podium steps were seasoned contenders, Ahmad Fazli Sham (PETRONAS Hong Leong Yamaha) and Norizman Ismail with 18'26.961s and 18'27.033s respectively.
Similar to Fujiwara, Masaki initially hoped to win Race 2 as well but luck ran out on the pint-sized rider when he crashed in the opening lap. Two time Underbone 115cc champion, Hadi Wijaya went on to secure his first victory of the season with 18'27.114s, 0.025 seconds ahead of Gupita Kresna with 18'27.139s followed by Fazli Sham finished third with 18'27.359s.