15 Feb

Yamaha Motor Expanding Facilities for Carbon-Neutral Powertrain R&D

 -Paving the way formore eco-friendly technologies in all Yamaha products, including electric motors and hydrogen engines –

IWATA, February 10, 2022 – Yamaha Motor Co., Ltd. (Tokyo: 7272)will bolster its research and development facilities for powertrain technologiesaimed at achievingcarbon neutrality,such as electric motors and hydrogen engines,throughout the durationof its new Medium-Term Management Plan (2022–2024). 

This expansion will install in stages various new equipment, including electric motor test benches, hydrogen supply equipment, and carbon-neutral fuel storage tanks, at Building No. 32, which wascompleted at the Company'sheadquarters last year. Once finished, the facility will play a leading role in implementing green technology measures for Yamaha products across the board.

In July 2021, the Company reviewed the Yamaha Motor Group Environmental Plan 2050 originally formulated in 2018 and set a new goal of aiming for carbon neutrality throughout all of its business activities—including across the life cycles of its products—by 2050. Among these changes, Yamaha Motor set a goal of reducing Scope 3 CO2 emissions (emissions produced from the Company's value chain, e.g., use of sold products) by 90% by 2050 compared to 2010,and this expansion of our R&Dfacilities will further strengthen the development of new energy systems as well asaccelerate their implementation.

The Company will continue shiftingto power sources bringinggreater efficiency andlower CO2 emissions as it aims to create a carbon-neutral world by promoting the use of compact mobility with smallercarbon footprints.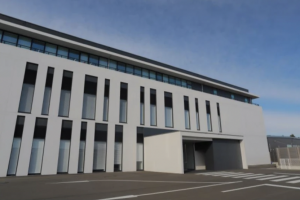 Building No.32wherecarbon-neutral technologyR&D will be conducted
Facility Overview
Name: Building No.32
Total floor area: 9,011m2
Main equipment:Electric motor test benches, hydrogen supply equipment, carbon-neutralfuel storage tanks, etc.