21 Sep

YAMAHA CAMP OPTIMISTIC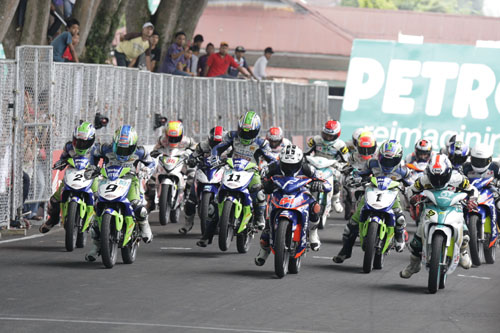 Hong Leong Yamaha Malaysia looks forward to the remaining rounds of the 2012 PETRONAS AAM Malaysian Cub Prix Championship season full with optimism as the Championship resumes this weekend at Kluang, Johor.
Heading into the right direction, Yamaha's attempt to defend the CP115 and WIRA titles has been fruitful so far in the past six legs with Penangite, Shahril Izzuwan Mohd Noor (PETRONAS Syntium Moto Yamaha AHM) currently leading the CP115 standings. Meanwhile, Mohd Hafiz Nor Azman (Mos Track Pro Yamaha Racing) pilots the WIRA class.
Adding on to the manufacturer's confidence, the riders attended a Team Building and Motivational Camp at the Awana Genting Resort in Genting Highlands last week (September 12-13) to boost their fighting spirit and competitiveness further.
"We want our riders to step up their game in the remaining four rounds left this season. Hence we organized the Yamaha Team Building and Motivational Camp last week which was attended by 30 Yamaha riders,"said Voon Yin Kong, Marketing Manager of Hong Leong Yamaha Sdn Bhd.
He went on to add, "Based on our observation and from the feedback received from the teams, the riders are all generally talented but they lack the hunger for success. To them, it is more important to just finish the race rather than trying to outdo themselves. But we are really happy to say this will soon change. The riders are feeling more motivated having attended the camp and we expect to see better and stronger results in the future."
Among those who attended the camp was veteran rider, Ahmad Fazli Sham. The Yamaha Maju Motor Racing rider views the two-day camp as a valueble experience which brought the Yamaha riders closer together.
"The camp was really exciting and we learned a lot. For example, I realized my mental and physical strength is not strong enough compared to rivals who are consistently improving. More importantly, we got to develop a closer relationship between us Yamaha riders. This way we get to exchange and share our knowledge, experiences off and on the track and make Yamaha proud as a whole," said the two-time Expert Champion.