16 Apr

RAMDAN BUOYANT AFTER BATU KAWAN FEAT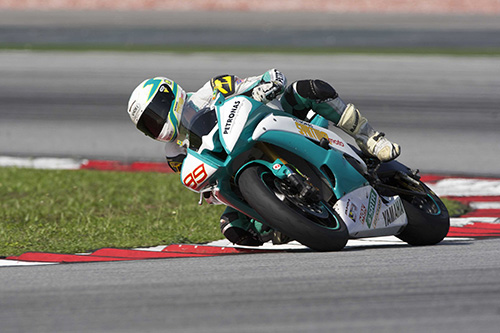 Teenage rider, Mohd Ramdan Rosli is eager to get his campaign underway in earnest as the 2013 PETRONAS Asia Road Racing Championship (ARRC) draw the curtains open at the Sepang Circuit this 19 to 21 April.
The PETRONAS AHM Malaysia protégé who seeks a frest start following a below par performance last year is certain his third term competing in the SuperSports 600cc will turn out better as he is more comfortable riding the full-frame 600cc bike.
On top of that, Ramdan is feeling buoyed by his dazzling performance in the opening round of the PETRONAS AAM Malaysian Cub Prix Championship two weeks ago where he finished the 18-lap CP130 race second.
Boosting his confidence further, the 17-year old enjoyed fruitful outings on board his Yamaha YZF-R6 machine where successfully recorded a win in the Pan Delta Series in Zhuhai China and a podium in the Indospeed Racing Series (IRS) in Indonesia.
Delighted with the progress he made, Ramdan commented, "A lot of effort is put into preparing for the new season. Besides the pre-season test in February, we had several private tests and participated in a few championships abroad."
"It's quite tiring but in turn I feel better adjusted and comfortable riding the machine and this gives me the extra confidence to ride faster and more aggressively this season," added the Klang born rider who partners with Australian, Michael Blair.
When asked to review his up and down performance in the SuperSports 600cc class last season Ramdan commented, "There were a lot of factors involved. Among many, I was still unfamiliar with the machine and with the competition level being very high it was a struggle trying to keep up with the frontrunners and reduce the time gap between us."
"Aside from that, lady luck was not really on my side. I injured my arm last year while testing in Spain and was forced to forgo two rounds consecutively, which totaled to four races. The lack of experience on the different circuit further contributed to my poor performance. But that's all in the past now. I'm better prepared this season," said Ramdan who concluded 2012 15th overall.
For more news and results, visit www.asiaroadracing.com