12 Apr

MCPRD02: MUHAIMIN SHAKES OFF DOMINATION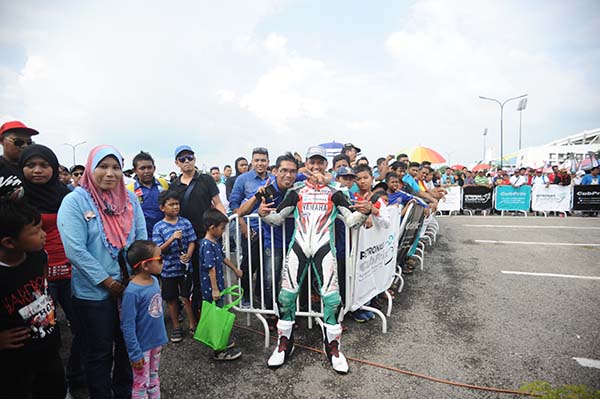 Although the winner for the second round of the 2015 PETRONAS AAM Malaysian Cub Prix Championship was Elly Idzlianizar Ilias, the CP130 spotlight in Batu Kawan clearly went to PETRONAS Yamaha Maju Motor rider, Abdul Muhaimin Roslan who rattled Elly and his teammates, Mohd Zamri Baba and Mohd Hafiz Nor Azman's domination to win third place.
The race earlier had Elly leading with Zamri and Hafiz fighting for second place but after forcing his way from the tenth place due to a machine failure in Superpole, Muhaimin took on riders ahead of him one by one until he reached the frontrunners. Muhaimin later slipped through between Zamri and Hafiz and disrupted their racing lines, forcing mistakes before Zamri took over control to end in second while Hafiz was not so lucky to finish fourth behind Muhaimin.
Finishing third, Muhaimin crossed the finish line in 16:22.058s while his teammate and first round's winner, Mohd Taufiq Roslan (16:36.761s) finished sixth behind Mohd Fitri Ashraf Razali (16:29.594s) of PETRONAS Yamaha-CKJ. Motul Yamaha YY Pang rider, Zaidy Mohd Zaifaizal came in seventh in 16:38.360s while Fitri's teammate, Mohd Affendi Rosli placed eighth.
Temerloh's winner, Ahmad Fazli Sham leads Yamaha riders in overall standings with 28 points in third place behind Zamri and Elly while Muhaimin now climbs up to fourth with 25 points.
Meanwhile in CP115 category, Tengku Amirul Haffirudin hits the sweet spot when the Motul Yamaha YY Pang rider won first place virtually without any contest as the only battle was for second and third place, 12 seconds behind him.
Tengku finished first in 13:53.509s ahead of another Terengganu-born, PETRONAS Yamaha-CKJ's Ahmad Syukran Aizat (14:05.716s) in second. Though looked promising from the start, Tengku's teammate, Mohd Izzat Zaidi was taken down by Mohd Iskandar Raduan mid-way through the race to finish fourth. Tengku leads overall with 50 points, Izzat second with 29 points.
For the WIRA class, a tough battle ensued ending Team PETRONAS Yamaha rider, Mohd Izzat Rafiq in sixth and his teammate, Mohd Isa Josri in ninth.