26 Oct

MCP ROUND 8:RACE REPORT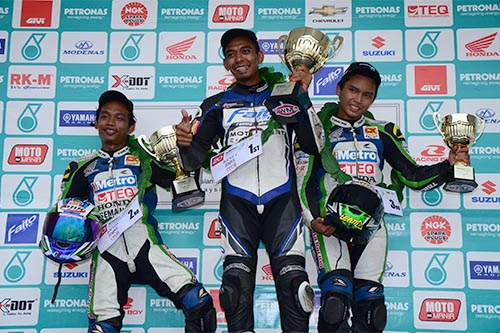 CP130
Veteran rider, Ahmad Fuad Baharudin struck gold in Jempol, Negeri Sembilan as he added another victory to his belt in a highly dramatic CP130 race in Round Eight of the PETRONAS AAM Malaysian Cub Prix Championship.
The Faito Yamaha Motobert rider started the race last (P17) but was able to power his Yamaha to the front after a number of riders made mistakes and crashed on several occasions throughout the 18-lap race.
However, it was not until the second last lap that Fuad thought he could win when Norizman Ismail (Harian Metro Y-TEQ SCK Honda Racing) and Mohd Ramdan Rosli (PETRONAS Syntium Moto Yamaha AHM) came into contact while battling for lead, sending the former off balance at turn 3.
Fuad and Ramdan capitalized on Norizman's error but immediately at the next turn, Ramdan lost control of his bike and crashed, putting Fuad in lead.
From there the 34-year old went hard on the throttle to create a gap and crossed the finish line first with 15'09.198s while Norizman settled for second with 15'10.726s followed by teammate, Mohd Fitri Ashraf Razali came in third with 15'12.259s.
"Winning here in Jempol came as a huge surprise because we struggled a lot in the practice sessions yesterday. The team could not get a good setup, I could not post a good lap time and we started today's race last. But somehow…in the end everything just clicked," said a gleeful Fuad.
"The thought of giving up never crossed my mind. Quite a number of riders ahead of me made mistakes and I just pushed on, overtaking one by one. It was in the second last lap when Norizman and Ramdan bumped into each other I realized, I actually got a shot of winning. Credits to the team for being able to sort out the issues that interrupted our campaign yesterday," he added.
Picking up 25 points from this leg, Fuad moves up to second overall in the standings with 117 points while Norizman continues to lead with 127 points. Mohd Zaqhwan Zaidi and Ramdan Rosli are at a tie in third overall with 98 points.
CP115
Ahmad Afif Amran was relieved to regain ground having appeared victorious in the CP115 race within 12'48.902s ahead of Givi Honda Yuzy Pachie duo, Mohd Amirul Ariff Musa second and Mohd Rozaiman Mohd Said third with 12'49.733s and 12'53.763s respectively in Jempol, Negeri Sembilan.
The PETRONAS Yamaha-CKJ rider inched closer to the overall title after he skillfully made his way to the front by surpassing leaders, Mohd Izzat Zaidi Salehan (Motul Yamaha YY Pang), Fakhrusy Syakirin Rostam (MAZ Racing) and Mohd Hafiz Nor Azman (PETRONAS Syntium Moto Yamaha AHM).
"It feels good to be on top again. Now I can breathe knowing that now there is a substantial gap in the point chart. Even so, just because I am in a comfortable position does not mean I will take things easy in the next two rounds. In fact, I still hope to finish on the podium and finish the season in style," said Afif who leads the standings with 136 points, 31 points ahead of Hafiz in second place with 106 points.
"As for the race, it was really challenging. I had a bad start and had to push hard to overtake those in front. Fortunately, the team prepared a competitive bike and this gave me a slight advantage against my contenders," he added.
WIRA
Meanwhile Hafiza Rofa lifted the overall title in the WIRA category at Jempol.
The Warner-Pumps YSP rider sealed the entry-level title when he finished second in a gruelling 12-lap race behind winner, Mohd Adam Norrodin who was equally impressive.
This is Hafiza's first major title since he made an entry in the championship in 2010 where he finished second overall in the Honda icon series and the WIRA class the following year while 2012 saw his worst run when he finished the season fifth overall.
Additionally, Hafiza's team had also enjoyed a successful season with six pole positions, 11 podium finishes and four wins between Hafiza Rofa and teammate, Mohd Shafiq Rasol from the past eight rounds.
Reflecting on how the race turned out, Hafiza commented, "Initially, winning the championship has always been the goal. We had all the right elements in place, a strong machine and I was mentally prepared. What I did not expect was Syafiq crashing in the early parts. From there I just played it safe."
YAMAHA 135 SUPER SERIES PETRONAS
After having his championship campaign halted by pure bad luck in Round 7, Mohd Azam Omar came back on top by winning the seventh installment of the PETRONAS AAM Malaysian Cub Prix Championship in the Yamaha 135 Super Series PETRONAS, convened this time in Jempol, Negeri Sembilan.
"A challenging race but I'm glad I managed a comfortable lead with having to face anyone this time," commented Azam.
Grabbing a holeshot first, Azam then pressed hard to maintain a lead with Mohd Khairul Ikhwan Ajis and Mohd Helmi Azman right on his back. He very well did so and upheld his position and with Mohd Ibrahim Mohd Norrodin now added to the fray while Helmi crashed out after clipping an airbag.
With Khairul Ikhwan and Ibrahim fighting for second position, Azam went on and to his luck, Khairul Ikhwan too went down after sliding out on the track. Azam in the end crossed the finish line first recording his time of 8:59.868s with Ibrahim almost two seconds behind with 9:01.580s in second place.
Kasma Daniel Kasmayuddin who opted out of the mix got his end of the bargain by finishing third in 9:04.117s while Mohd Iqbal Amri Abdul Malek and Mohd Amirul Rosefendy finished fourth and fifth.
Azam now has a 28 point gap with Ibrahim in the overall standings with Azam still leading his compatriots. Ibrahim sits second with 131 points while Kasma Daniel now in third with 105 points.
For more info and results, please visit www.malaysiancubprix.com