28 Sep

MCP ROUND 7:TAKE IT EASY, YY PANG ADVICES TENGKU AMIRUL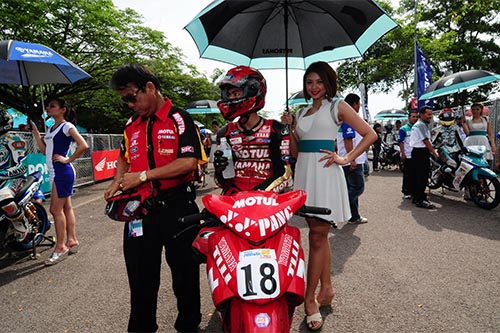 In the previous leg in Kluang, Johor, Tengku Amirul caused a pile up at the start of the CP115 race when in his haste for the hole shot, crashed out at the exit of Turn 1. The incident not only ended Tengku Amirul's podium chase, but also affected the race outcome of a few other riders who were unable to pick up valuable championship points from the Kluang round.
"In my opinion, Tengku Amirul needs to learn to complement his strong riding skills with tactical thinking," adviced YY Pang, team principal of Motul Yamaha YY Pang. "Because of his desire to win from the front, Tengku Amirul takes too many risks at the early part of the race, and sometimes unnecessarily riding outside his comfort zone. This haste on the part of the rider is what causes him to crash out so often."
Fortunately for Tengku Amirul, he was still able to pick up his bike and complete the Kluang race in 15th place, which puts him tenth on the rankings chart.
"The will to win is something that every rider must possess and Tengku Amirul has that in spades. But he needs to gain a certain level of maturity before he will be able to merge race craft and tactical know-how into a strong package. In fact, Tengku Amirul reminds me very much of a young Chia Tuck Cheong when he first started out in his career. Like Tengku Amirul, Chia too crashed out almost every other time he went out on track," said YY Pang, who is also fondly known as 'Sifu' or The Master, by dint of his many years of rider development.
For more info and results, please visit www.malaysiancubprix.com