01 Nov

MCP RD09: PRACTICE REPORT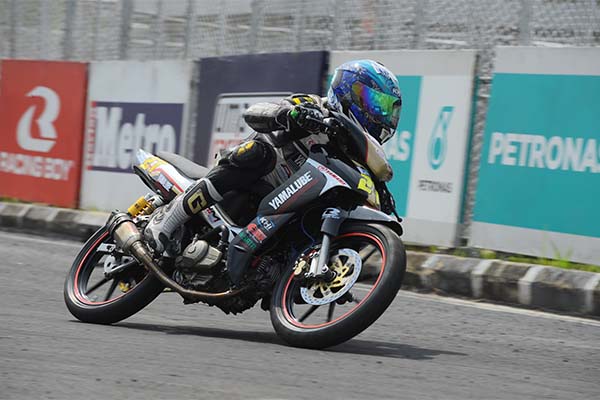 Mohd Zaqhwan Zaidi excelled again as he set a scorching pace in the opening practice for Round 9 of the PETRONAS AAM Malaysian Cub Prix Championship in Jempol, Negeri Sembilan on Saturday.
The runaway championship leader who needs to finish second or win tomorrow's race to clinch the CP130 title covered the newly resurfaced 1.104 kilometre track in 49.853s ahead of Mohd Iskandar Raduan (Yamalube AHM) who posted his quickest lap in 50.533s.
Ahmad Afif Amran (PETRONAS Yamaha CKJ) clocked in third with 50.541s while a fully recovered Mohd Zamri Baba and Mohd Affendi Rosli rounded up top five in 50.564s and 50.753s respectively.
Meanwhile Elly Idzlianizar Ilias surprised his rivals when he became the only rider to dip under 50 seconds in the CP115 timesheets.
The seasoned contender posted the quickest lap in 50.579s followed by Luqman Shakiemi Hakim (elf Koyoko KC Racing) with 51.066s and Mohd Amirul Ariff Musa third, 51.434s.
Newly-crowned WIRA overall champion, Khairul Idham Pawi dominated the WIRA practice session with 51.031s ahead of Mohd Afiki Supaat (Jetron Apido Team PJM) and Harith Farhan Baharin with 51.141s and 51.499s respectively.
For more news and result, please visit www.malaysiancubprix.com