19 Oct

MCP RD08: RACE REPORT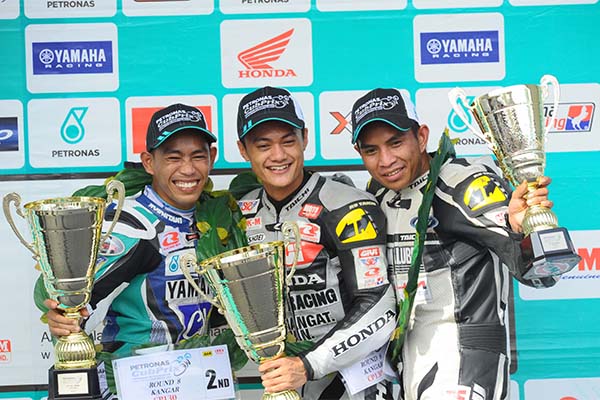 Round Eight of the 2014 PETRONAS AAM Malaysian Cub Prix Championship produced another brilliant race on Sunday as Affendi Rosli chalked up a podium finish behind race, winner, Zaqhwan Zaidi at Stadium Syed Putra in Kangar, Perlis.
Despite a botched start, Zaqhwan had no problems dialing into the demands of the new Kangar track, wrapping up the 18-lap CP130 race in 12'53.387s after a lengthy battle with Affendi of PETRONAS Yamaha CKJ who was forced to settle for second place in 12'55.396s.
Mohd Iskandar Raduan (Yamalube AHM) completed the podium in third place with 12'56.328s.
Zaqhwan's closest title rival, Norizman Ismail (Harian Metro Y-TEQ SCK Honda Racing) who was hoping to get on the podium crashed in the opening lap while leading the race but recovered and finished 10th.
Hauling maximum points from this leg, Zaqhwan extends his CP130 championship lead to 145 points with Norizman second and Ahmad Afif third, 113 points and 111 points respectively.
Motul Yamaha YY Pang's domination in the CP115 continues as Mohd Izzat Zaidi Salehan secured his fifth win on the 949 metre Kangar track, making him the new intermediate class championship leader with 153 points.
The 18-year old dominated the 15-lap race from start to finish, completing it in 10'56.430s ahead of Abdul Muhaimin Roslan (PETRONAS Yamaha Maju Motor) with 10'59.171s and Kangar-born Elly Idzlianizar Ilias (M Seki Liberty Honda), 11'00.850s.
Lastly Khairul knew that he only needed to finish 15th to clinch the WIRA title as he held a commanding 74-point lead over closest rival Afiki Supaat but despite the advantage, the 16-year old delivered another outstanding performance to secure his seventh consecutive victory for the season, putting an end to the championship chase with 191 points.
The Honda rider completed the 12-lap race in 8'57.428s followed by Mohd Fairuz Nasir (Felda Pbafb Tech Racing) second and Mohd Azam Omar (PETRONAS Yamaha) third with 9'01.802s and 9'05.021s respectively.
For more news and results, please visit www.malaysiancubprix.com