21 Jun

MCP RD05:PRACTICE REPORT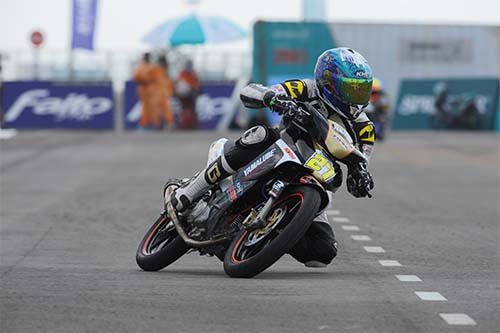 Round 5 of the 2014 PETRONAS AAM Malaysian Cub Prix Championship got underway in Temerloh, Pahang on Saturday with Yamaha's Mohd Iskandar Raduan securing the third quickest lap in the CP130 opening practice while Zaidy Mohd Zaifaizal, Ahmad Abdul Kadir and Tengku Amirul Haffiruddin dominated the CP115.
CP130
Mohd Iskandar Raduan enjoyed a positive run in the CP130 opening practice despite Honda rivals proving to have a stronger pace.
Iskandar of Yamalube AHM came in third fastest in the premiere class timed practice session with 44.583s, 0.830 seconds adrift Mohd Zaqhwan Zaidi who topped the time sheets with 43.753s. Sandwiched between the two riders was Ahmad Fazrul Sham with 44.348s.
Another Yamaha rider to land within the top five was Mohd Emir Firdaus Hasan. The Espada Motobert Yamaha rider logged in the fifth quickest time around the 1.082 kilometer track with 44.814s.
Usual podium contenders, Ahmad Afif Amran meanwhile could only manage 11th fastest with 45.270s while Ahmad Fazli Sham who crashed in the free practice and timed practice registered at the lower end of the CP130 time sheets in 15th ahead of PETRONAS Yamaha Maju Motor teammate, Mohd Taufiq Roslan 16th.
CP115
Motul Yamaha YY Pang carried on their winning momentum as Zaidy Mohd Zaifaizal, Ahmad Abdul Kadir and Tengku Amirul Haffiruddin topped the CP115 practice.
Zaidy who won the previous leg in Melaka led the way with 44.691s followed by Ahmad with 45.143s while Tengku Amirul clocked his best lap in 45.209s.
M-Seki Liberty Honda's Elly Idzlianizar Ilias wrapped up the intermediate timesheets fourth fastest with 45.345s and Izzat Zaidi Salehan who also represents YY Pang came in fifth, 45.370s.
Zaidy who hails from Penang is hoping to secure a hat-trick here in Temerloh and further extend his lead in the CP115 standings.
WIRA
Yamaha one-make graduate, Mohd Azam Omar impressed on the revamped Temerloh track as he took the second fastest time in the age-capped WIRA class.
The PETRONAS Yamaha rider posted 45.811s behind leading man, Khairul Idham Pawi with 45.655s while Noor Edrin Ezurin recorded his best time at 46.269s.