31 May

MCP RD04:PRACTICE REPORT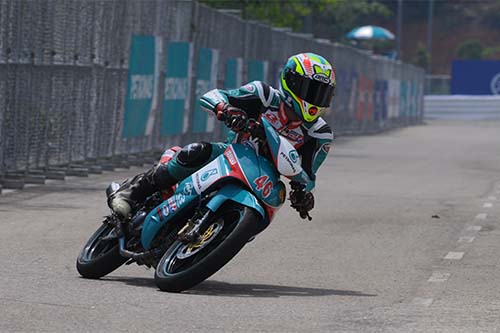 CP130
Ahmad Fazli Sham is off to a good start as the two time CP130/Expert Champion logged in third quickest in the CP130 practice in the Melaka PETRONAS AAM Malaysian Cub Prix Championship.
The PETRONAS Yamaha Maju Motor rider lapped in his fastest lap at 49.640s around the 1.101 kilometer circuit while Mohd Zaqhwan Zaidi topped the practice time sheets with 49.037s. This is the fourth time in a row Zaqhwan has topped the practice session since the 2014 season commenced in Batu Kawan last month.
Norizman meanwhile made notable progress from the past two rounds and came in second quickest with 49.517s followed by PETRONAS Yamaha Maju Motor's Fazli Sham third with 49.640s.
Satisfied, Fazli Sham looks forward to Sunday's SuperPole where he targets a front row start and with a little bit of luck secure his first victory for the season having finished the past two rounds on the podium.
Besides the top three riders, the remaining seven riders who qualified for Sunday's SuperPole includes Mohd Affendi Rosli, Mohd Taufiq Roslan, Ahmad Fazrul Sham, Mohd Fitri Ashraff Razali, Ahmad Afif Amran, Sasitharen Sukumaran and Mohd Iskandar Raduan.
Zamri Baba who was called in by the race stewards in the morning practice due to unsportsmanship behavior came in 12th fastest overall.
CP115
Meanwhile Motul Yamaha YY Pang's Mohd Izzat Zaidi Salehan and Tengku Amirul Haffiruddin took the first two positions in the CP115 practice.
Izzat who won the opening round at Batu Kawan timed 50.127s while Haffiruddin who won the Muar race clocked 50.529s ahead of third quickest rider, Mohd Amirul Ariff Musa of Givi Honda Yuzy Racing with 50.614s.
Terengganu winner, Zaidy Mohd Zaifaizal, also representing Motul Yamaha YY Pang registered fourth fastest with 50.681s while M Seki Liberty Honda's Mohd Syafiq Rosli rounded up the top five with 50.687s.
WIRA
Lastly, Khairul Idham Pawi is on the right path to create a hat trick as he clocked in 51.310s to set the fastest lap time in the age-capped WIRA class.
Khairul who won the race in Muar and Terengganu was 0.656 seconds ahead of Afiki Supaat of Jetron Apido Team PJM who came in second with 51.966s followed by Mohd Harith Farhan Baharin third with 52.016s.
YAMAHA 135 SUPER SERIES PETRONAS
Anxious to be on the Yamaha 135 Super Series PETRONAS podium again, Mohd Irfan Rosnizam made himself the fastest rider on Saturday's Timed Practice session for the fourth round of the Malaysian Cub Prix Championship.
Running fast from the start, Irfan did not look back when he lead the session to shed his seconds lap after lap. Mohd Afizi Supaat and Shaikh Alif Nazirul tried to close the gap but Irfan went beyond expectations when he became the only Super Series rider going under the 54 seconds mark. He recorded his fastest on Lap 9 in 53.925s.
Still showing good spirit, Shaikh  Alif did not disappoint when he went all out to prove his worth. Shaikh ended his run as second fastest in 54.287s followed by third fastest rider Mohd Amirul Arif Ramlee in 54.399s.