30 May

MCP RD04:IKHWAN PUMPED UP FOR MELAKA CHALLENGE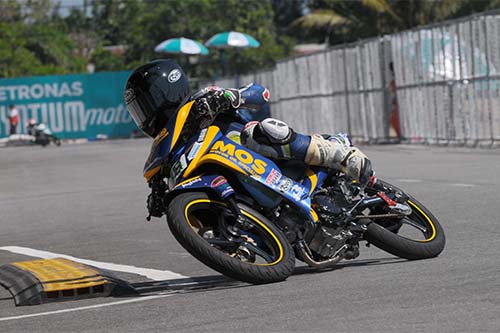 Khairul Ikhwan Ajis is all set to halt Khairul Idham Pawi's hat trick bid in the Melaka PETRONAS AAM Malaysian Cub Prix Championship this 31 May and 1 June.
Currently placed second overall in the WIRA standings with 55 points, the Team Mos Track Pro Yamaha rider is 11 points adrift Khairul Idham of Kozi Yam Honda Racing who leads with 66 points while Harith Farhan Baharin holds third with 49 points.
Khairul Ikhwan believes he has what it takes to hold off his rival at the Stadium Hang Jebat track provided he does not make any mistakes in the qualifying session like he did in Terengganu.
"I qualified 17th in the previous round and that hampered my podium efforts. Although I improved by 12 spots to finish sixth in the race, I lost the championship lead."
"With that said the qualifying session in Malacca next weekend will be very important if I want to stop Khairul Idham from completing a hat trick. It will be an uphill task because he (Khairul Idham) has proven to be very fast in the past few rounds but I am determined to go all out," he said.
The Yamaha one-make graduate confidence is further boosted knowing he has a team of skillfull engineers supporting him in the paddock.
"Mos Track Pro Yamaha is a great team and I consider myself lucky to run my campaign with them. The team engineers were able to provide a competitive setup from the start of the season and it allowed me to win the opening round (Batu Kawan) and finish second in Muar and I am optimistic we can achieve similar results in Malacca. The layout suits my riding style, it's a track I enjoy racing at and I want to be back on that top step of the podium this weekend."