09 May

MCP RD03:PRACTICE REPORT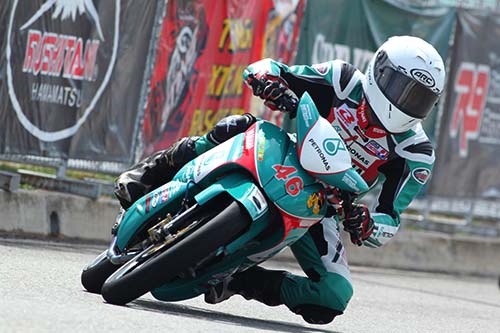 CP130
Yamaha supported riders, Ahmad Fazli Sham and Mohd Affendi Rosli kept Honda rival, Mohd Zaqhwan Zaidi on his toes as both riders came in second and third quickest in the Terengganu PETRONAS AAM Malaysian Cub Prix Championship opening practice on Friday.
Fazli of PETRONAS Yamaha Maju Motor posted the second quickest lap time with 41.262s while Affendi of PETRONAS Yamaha CKJ took third in 41.308s. Ahmad Afif Amran who won the previous round in Muar came in eighth fastest today in 41.634s.
Zaqhwan Zaidi of Yuzy Racing topped the time sheets with 40'432s to set a new lap record on the Stadium Sultan Mizan Gong Badak track.
CP115
Tengku Amirul Haffiruddin of Motul Yamaha YY Pang posted the quickest lap in the CP115 category.
The Terengganu born rider looking to impress his home crowd was certainly on the right path as he logged an impressive 41.551s to lead the intermediate timesheets ahead of Elly Idzlianizar Ilias of M Seki Liberty Honda and Mohd Izzat Zaidi Salehan who timed 41.626s and 41.687s respectively.
WIRA
Mohd Afiki Supaat surprised the paddock as the Jetron Apido Team PJM rider outpaced usual frontrunners to clock in the quickest lap time in the age-capped WIRA.
Afiki who claimed his career's first podium in Muar last month timed 42.446s, 0.094 seconds ahead of Kozi Yam Honda Racing's Mohd Harith Farhan Baharin and 0.121 seconds ahead of FELDA PbaFb Tech Racing's Fairuz Nasir.
YAMAHA 135 SUPER SERIES PETRONAS
It's safe to say that the third round would be a comeback for Yamaha 135 Super Series PETRONAS rider, Mohd Isa Josri. After a crash in the battle for podium in Batu Kawan and just an unfortunate end in Muar, Isa rebounded by being the fastest rider amidst a barrage of young Yamaha riders. He clocked in the fastest lap in 45.553s under the blistering hot sun of Kuala Terengganu.
Not only that, the usual podium suspect were running off the radar this time when the second and third fastest was recorded by Shaikh Alif Nazirul and Mohd Afizi Supaat in 45.645s and 45.964s.
Irfan who managed a double win in Batu Kawan and Muar previously could only manage a sixth fastest time in 46.381s but it is too early to tell if the chart leader would go all out come race day.