26 Apr

MCP RD02:RACE REPORT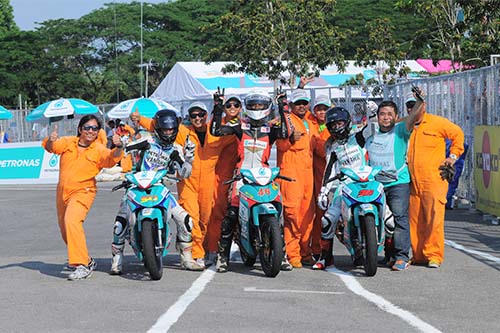 CP130
Rookie, Ahmad Afif Amran outclassed usual suspects to earn his career's first CP130 victory while poleman, Mohd Zaqhwan Zaidi fumbled out of the race due to a faulty engine in Round Two of the PETRONAS AAM Malaysian Cub Prix Championship at Stadium Sultan Ibrahim in Muar.
The PETRONAS Yamaha-CKJ rider nicked away the chequered flag from senior, Ahmad Fazli Sham in the final moments of the race, wrapping up the gruelling 18-lap challenge with 12'28.798s. PETRONAS Yamaha Maju Motor's Fazli finished 0.247 seconds later with a total time of 12'29.045s while Mohd Affendi Rosli took third with 12'33.093s.
In a dramatic race, Affendi zoomed into the holeshot as soon as the lights went out but he could not withstand Zaqhwan's brutal pace and was overtaken by his young rival by the second lap.
For a moment it seem as though Zaqhwan could sustain his lead but luck ran out on the Honda rider as his engine blew out in the fourth lap, taking out Mohd Haiekal Akmal Zakaria and Mohd Emir Firdaus Hasan in the process, putting Affendi back in the lead.
But Affendi who was caught up in heavy smoke behind Zaqhwan lost focus and fell out of pace. Fazli and Afif took control of the race and the rest was history.
Hauling 33 points, Afif now leads the CP130 overall standings while Affendi takes second place with 29 points. Norizman Ismail of Harian Metro Y-TEQ SCK Honda Racing who finished eighth sits in third overall with 28 points.
"Today is a very special day. Not only did I manage to win my first CP130 race but also I have my PETRONAS teammates with me by my side. I can't recall the last time PETRONAS riders bagged all three podium spots," said an overjoyed Afif.
CP115
Motul Yamaha YY Pang duo celebrated their second one-two victory after Batu Kawan through Tengku Amirul Haffiruddin and seasoned contender, Zaidy Mohd Zaifaizal.
In the first half of the 15 lap race, it looks as though the all-red outfit would sweep the podium clean with Mohd Izzat Zaidi Salehan in third but the 18-year old failed to hold off a very aggressive Mohd Amirul Ariff Musa who overtook him with seven laps remaining.
Tengku Amirul completed the race within 10'37.057s while Zaidy came in half a second later with 10'37.628s. Poleman Amirul rounded up the top three with 10'40.400s.
"This is our second time taking home a one-two finish for YY Pang this season and we are very happy with this achievement. A lot of the credit goes out to the team engineers and of course our manager, YY Pang," said Tengku Amirul.
The 18-year old went on to add, "My mind was bent about winning the race but Zaidy was very strong and I could only tail him for most parts of the race. If not for the slip up he had at turn one, I highly doubt I could win," he added.
WIRA
Picking up 25 points from this race, Tengku Amirul now leads the overall standings with 45 points followed by Izzat second and Zaidy third, 36 points and 33 points respectively.
Lastly Khairul Idham Pawi took his first WIRA victory in emphatic fashion, cruising to the chequered flag with a 3.967s second advantage over closest rival Mohd Khairul Ikhwan Ajis.
Khairul Idham completed the 12-lap race within 8'36.147s while Team Mos Track Pro Yamaha Racing's Ikhwan who was forced to play catch up stopped the clock at 8'40.114s.
The second out of 10 rounds also marked a special outing for new team, Jetron Apido Team PJM as Mohd Afiki Supaat secured the team's first podium in third place with 8'45.995s.
Despite coming in second, Khairul Ikhwan remains in control of the WIRA overall standings with 45 points, four points ahead of Khairul Idham while Harith Farhan Baharin who finished seven sits in third with 29 points.
YAMAHA 135 SUPER SERIES PETRONAS
It was probably not Azmel's day when the young Yamaha 135 Super Series rider led the second round of PETRONAS AAM Malaysian Cub Prix Championship race but was disappointed in the 11th hour when his win was stolen right under his nose.
After an astounding Timed Practice session where he placed first, Mohd Azmel Alif Yusof then continued his great form from the start of the grid and powered on to almost every turn the circuit has. While Azmel was paving his way at the front, Mohd Isa Josri and Shaikh Alif Nazirul was competing for second place with another rider, Mohd Irfan Rosnizam slowly crawling his way up.
The four gradually widened their gap with the other riders to almost six seconds before Irfan managed to slip through the cracks to sit behind the leader, mid-way through the race. With Irfan on his tail from lap eight onwards, Azmel played his defense and the tactic worked but unfortunately not for long. He lost the battle in the last lap when Irfan went on the inside to ride his way to victory. Not only that, Shaikh also managed a pass that pushed Azmel to third place.
Irfan won the race in 7:43.463s, Shaikh 7:44.225s in second while Azmel sits in third with 7:44.383s.
"I'm so glad with this win on the podium again. On a personal note, I would like to score a hat-trick with the upcoming race in Terengganu next round", said Irfan excited with his victory.
Irfan now sits on top of the overall chart with 50 points while Azmel is in second with 32 points. Mohd Afizi Supaat is in third place with 26 points.