06 Apr

MCP RD01:RACE REPORT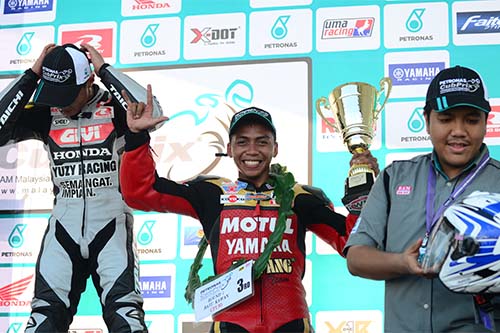 The opening round of the 2014 PETRONAS AAM Malaysian Cub Prix Championship marked a momentous occasion for Mohd Azhar Abdul Jalil as the Motul Yamaha YY Pang rider secured his first ever premiere class podium at Stadium Batu Kawan, Penang on Sunday.
The CP130 sophomore completed the 18-lap race third with 16'21.269s after a grueling battle with two-time champion, Norizman Ismail who finished runner-up with 16'18.735s.
Winning the race was Saturday's quickest rider and pole man, Mohd Zaqhwan Zaidi with 16'15.133s.
Yamaha's next best effort came in the form of PETRONAS Yamaha-CKJ's Mohd Affendi Rosli (fourth) followed by Mohd Taufiq Roslan (fifth) while Azhar's teammate, Mohd Adib Rosley finished ninth.
"I am really proud to finally get on the CP130 podium. I did not think it was possible to finish at the front with so much competition on the grid but I did. No words can describe how happy I feel and I would like to extend my thanks to the team for giving me a perfect setup this weekend. Additionally, I would like to dedicate this podium to our manager, YY Pang for believing in us," said Azhar who now sits in third overall in the rider standings with 16 points.
In the CP115, Motul Yamaha YY Pang celebrated a one-two victory through youngsters, Mohd Izzat Zaidi Salehan and Tengku Amirul Haffiruddin while former CP130 rider, Elly Idzlianizar Ilias was force to settle in third place despite starting the race from pole.
The first half of the 15 lap race saw Elly lead the way but his aggressive riding caused his Honda to overheat and both YY Pang riders took advantage of the situation to overtake their M Seki Liberty Honda rival in lap seven and 14th respectively.
Izzat completed the 15-lap race within 13'53.995s while Tengku Amirul and Elly timed 13'56.108s and 13'56.685s respectively.
"I did not have the best of starts despite qualifying for front row. I was nervous about racing against Elly and took off quite late," said Izzat who now leads the CP115 championship with 25 points.
He went on to reflect on the race, "It was really challenging. Elly was exceptionally fast and if not for his technical issue, a win would have been impossible. Nevertheless I am really happy to start the season with a win and making things sweeter Tengku Amirul finished on the podium with me."
Khairul Ikhwan Ajis outgunned Mohd Harith Farhan Baharin to secure the chequered flag in the age-capped WIRA. The Mos Track Pro completed the 12-lap race within 11'27.157s, 1.434 seconds ahead of Harith (11'28.591s) followed by Khairul Idham Pawi (11'30.663s) third.
Lastly Mohd Irfan Rosnizam won the Yamaha 135 Super Series PETRONAS.
It was almost a perfect run for Irfan when after capturing the first turn, he went on to lead most part of the race except in Lap 3 where he was overtaken by Mohd Isa Josri, leading for a brief moment before Irfan rode back to head the Yamaha pack and cross the finish line first in 10:07.222s, almost nine seconds ahead of second place winner Mohd Husaini Mohd Zin while Isa met an unfortunate end to his race in a crash in Lap 6.
Third place went to Mohd Azmel Alif Yusof to finish his run in 10:16.121s, almost ten seconds behind the winner.
Three riders crashed did not make it to the finish line; Isa, Mohd Ikhwanuddin Sujah and Yap Yee Him but the battle in the next round is expected to be more intense and electrifying.