05 Apr

MCP RD01:PRACTICE REPORT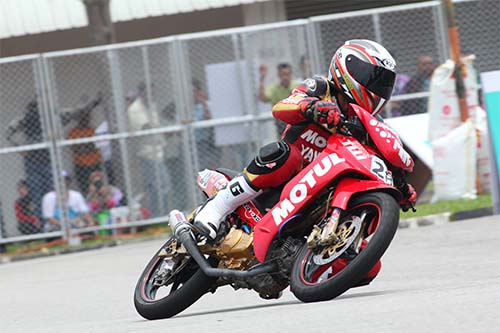 Mohd Affendi Rosli became the quickest Yamaha-man in the opening round of the 2014 PETRONAS AAM Malaysian Cub Prix Championship that kicked off at Stadium Batu Kawan, Penang on Saturday.
The latest addition of factory-backed outfit, PETRONAS Yamaha-CKJ was second fastest in the CP130 practice session with a 53.749s just 0.228 seconds off Mohd Zahqwan Zaidi who topped the time sheets with 53.333s.
Motul Yamaha YY Pang's Mohd Azhar Abdul Jalil also impressed by dominating the first two free practice session before coming in third fastest in the timed practice with 53.591s. Affendi's teammate and CP130 debutant, Ahmad Afif Amran enjoyed a positive run to register fourth fastest overall while last season's runner-up, Norizman Ismail took fifth with 53.720s and 53.749s respectively.
Besides the top five, others who qualified for the SuperPole includes Mohd Zamri Baba, Mohd Fitri Ashraf Razali, Mohd Iskandar Raduan, Ahmad Fazrul Sham and Mohd Adib Rosley.
Meanwhile Mohd Izzat Zaidi Salehan outclassed rivals to set the quickest lap time in the CP115 category. The Motul Yamaha YY Pang rider clocked 54.246s in his sixth tour around the Batu Kawan track, 0.169 seconds ahead of senior, Elly Idzlianizar Ilias (M-Seki Liberty Honda) who settled for second best with 54.415s.
Third came in Izzat's teammates, Tengku Amirul Haffiruddin with 54.561s followed by Zaidy Mohd Zaifaizal (54.692s) and PETRONAS Yamaha-CKJ's Mohd Shariffudin Shamsuddin (54.875s) completed the top five .
As for the WIRA, the top three fastest riders were Amirul Hakim Mohd Rizal (56.165s), Mohd Harith Farhan Baharin (56.212s) and Mohd Afiki Supaat (56.346s).
Meanwhile Mohd Irfan Rosnizam broke through the pack of 18 riders to set the bar in the Yamaha 135 Super Series PETRONAS timed practice session. Irfan recorded 58.905s while Mohd Azmel Alif Yusof settled for second best with 1'00.879s.
Third quickest in the Yamaha one-make series was Mohd Isa Johari riding bike number 16 with his time of 1:00.886s while Mohd Husaini Mohd Zin and Mohd Afizi Supaat, younger brother to Afiki Supaat became locked out the top five.
Still a promising act with some potential, Dennis Lee Thim Yaw made it in the top ten list with his time of 1:05.039s as tenth fastest while Yap Yee Him became fastest rider number 12.