04 Apr

MCP RD01:PETRONAS YAMAHA-CKJ REVAMPS CP130 LINE-UP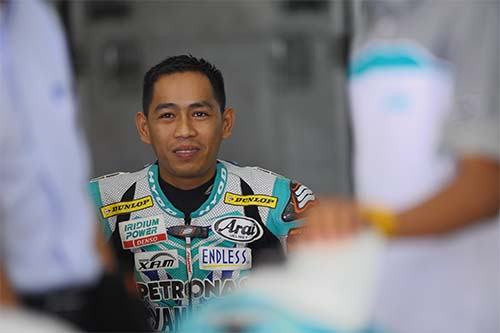 PETRONAS Yamaha-CKJ mounts a serious challenge for this season's championship as the team confirmed Mohd Affendi Rosli and Ahmad Afif Amran is set to represent the factory backed outfit in the CP130 category in the PETRONAS AAM Malaysian Cub Prix Championship.
29-year old Affendi previously rode for SCK Racing while Afif Amran was last year's CP115 Champion. Both riders will also compete in the PETRONAS Asia Road Racing Championship in the Underbone 130cc and SuperSports 600cc category.
"I am quite nervous about my debut with PETRONAS Yamaha-CKJ," he said.
"The team maybe new but they have already made their mark by dominating the CP115 category last year and this puts some pressure on me. Regardless, I am determined to deliver and I am optimistic with the team's full cooperation, we can make make an impression in the CP130 this season," he added.
Speaking about his decision to leave SCK Racing, perhaps the strongest camp in the paddock, Affendi explained the change was essential if he is to get back to his winning ways.
"I've represented SCK since 2005 and throughout that time, SCK has won the CP130 individual standings twice and the Best Team Awards three times in a row. In a way, I believe my work there is done and it's time I seriously look into mounting a personal challenge for the championship. This is my reason for going forth with Yamaha," he said.
"It was a very hard decision for me and it can happen even in the best family. SCK is a fantastic team, and I will miss them because we have been through a lot together."
"But I'm also quite curious and very motivated for this new challenge with Yamaha and I think it will be interesting and good for my career," he added.
While he had spent the past four years competing with Honda, Affendi is no stranger to Yamaha machinery. In fact, he won the CP115/Novice title with the latter before SCK switched to Suzuki in 2008 and 2009 followed by Honda in 2010.