02 Apr

MAJU & PETRONAS JOIN FORCES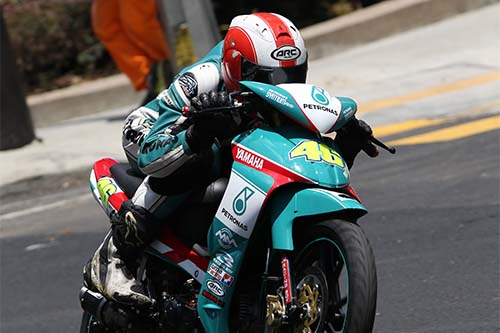 Maju Motor Racing will have a brand new name and livery as team manager, Yong Yin Hoe confirmed a new sponsorship deal with PETRONAS ahead of the 2014 PETRONAS AAM Malaysian Cub Prix Championship.
The joining of these two iconic names from Malaysia's premier motorcycle racing championship creates a new name for the team to which starting from the first race of the season at Stadium Batu Kawan, Penang this weekend, will be known as 'PETRONAS Yamaha Maju Motor Racing'.
Besides an updated version of the once familiar red and white livery, Yong Yin Hoe also revealed a restructured line-up for the new season with Ahmad Fazli Sham and Mohd Taufiq Roslan set to remain in the CP130 category while Abdul Muhaimin Roslan and Kasma Daniel Kasmayudin takes up the CP115 challenge.
"We are very happy PETRONAS will be joining us this season," said Yong Yin Hoe. "We have always been very motivated about racing but this news brings new enthusiasm and this is a very positive thing for the entire team especially after going through three seasons without a title sponsor."
He added, "In addition to the striking new liveries, we will compete in the CP115 this season, as opposed to just the CP130. The logic behind this move is centered around Kasma Daniel. He is a young rider and in need of guidance in the intermediate class and we believe Muhaimin is the best person to lead him."
Meanwhile two-time CP130/Expert Champion, Fazli Sham expressed his delight with the new partnership.
"It's feels great to know PETRONAS, which has a long and deep involvement with Cub Prix has chosen to join us. It gives me the motivation to push harder and fight for this season's championship after going through a difficult campaign in the past few seasons, " he said.