05 Apr

HLYM INTRODUCES FACTORY TEAM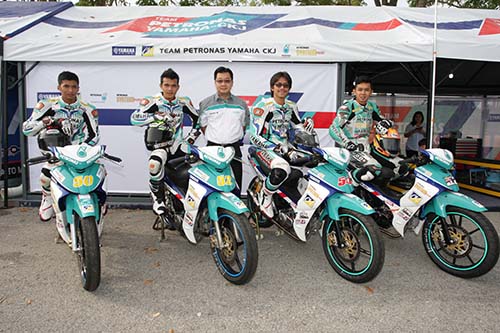 Hong Leong Yamaha Malaysia Sdn Bhd (HLYM) takes an assertive approach to the brand new season of the PETRONAS AAM Malaysian Cub Prix Championship by establishing a full-fledge factory camp through a unique partnership with Terengganu based team, CKJ Racing.
A first of its kind, this fully-backed factory team dubbed PETRONAS Yamaha- CKJ will see Yamaha top seed, Mohd Zamri Baba and former YY Pang ace, Mohd Adli Salihin lead the CP130 challenge while original CKJ line up, Mohd Afif Amran and Mohd Shariffudin Shamsuddin take on the intermediate CP115.
According to Voon Yin Kong, General Manager of Sales and Marketing, HLYM, the idea to create such a team came about in response to the increasingly complicated and competitive battlefield in Malaysian motorsports.
"Yamaha has won numerous titles in the past but we are not one to rest on our laurels. By introducing the factory team into Cub Prix, we are looking to change the game even further."
At present, most manufacturers enter the sport by supporting satellite teams. In the past, Honda had also fielded a factory team for a season but in the case of Hong Leong Yamaha, this is the first time in 20 seasons that the Yamaha marque is represented by a factory team.
When asked why CKJ was chosen to be the selected partner, Voon added, "Simply because they were the most enthusiastic and passionate about the project. "
"Although considered as a relatively 'new' team in Cub Prix, CKJ has produced commendable results on the intermediate level in both Cub Prix and the regional-level Asia Road Racing Championship (ARRC) and they are consistently improving from performance to management. They have been eyeing a move up the ranks but the lack of experience and resources had put them on hold and this was when HLYM decided to step-in, offering this unique partnership to help each other out for the greater good."
Talking about his expectations for the upcoming round this weekend, Voon commented, "We can't expect instant results, but our riders will definitely be competitive. What's more the line-up is quite solid with Zamri and Adli in the CP130 and Afif and Shariffudin in the CP115. Hopefully, our fortunes will turn around this season and Yamaha can return to its former glory through PETRONAS Yamaha – CKJ."