15 Mar

HAZIQ TOOK OVER TEMERLOH CUB PRIX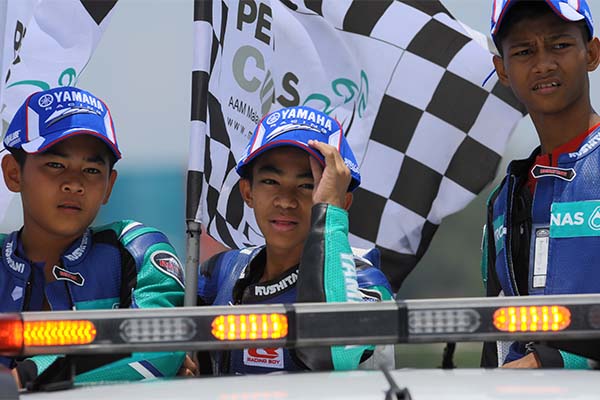 Mohd Haziq Firus continued his domination this weekend when the PETRONAS Yamaha Super Series rider seized the first win for the 2015 PETRONAS AAM Malaysian Cub Prix Championship season after succeeding Saturday's Timed Practice session with a flair here in Temerloh, Pahang.
Though second place winner, Mohd Azri Haris Abdul Fattah stole the holeshot in Turn 1, Haziq kept on his tail and by the third lap was able to outdo his closest rival. From then on, Haziq opened a three-seconds gap before finishing first in 8:33.613s ahead of Azri in 8:36.629s.
Mohd Faiz Zekri Sabri who was competing with the frontrunners ended the race in third position, timing his run in 8:39.403s while Imran Hadi Mohd Fahmi and Mohd Ikhwanuddin Syah sealed off the top five in fourth and fifth respectively.
"I'm ecstatic with this victory even though I started off lagging behind earlier in the race. I managed however to run a steady pace before taking down the riders in front of me," said Haziq.
Haziq drew first blood in the overall standings with 25 points ahead of Azri with 20 points  and Faiz Zekri third, 13 points.