31 Mar

FUAD CALLS IT A DAY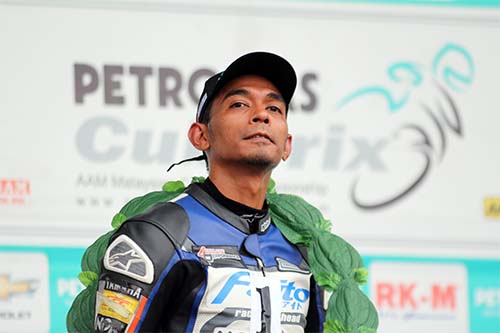 After months of speculation, reigning champion, Ahmad Fuad Baharudin confirmed his retirement from the PETRONAS AAM Malaysian Cub Prix Championship ahead of the 2014 opening round at Stadium Batu Kawan, Penang this weekend.
Fuad decided to hang his racing boots after 15 years and focus all his attention towards developing the next generation of riders.
He made the announcement after the final leg of the Felda Cub Prix Rider Search Programme at the Elite Speedway in Subang Jaya last weekend where four Felda youths, Muhammad Afiq Mohd Zailani, Aziaizat Sumairiy, Muhd Fareez Afeez Abd Rahman and Mohd Shah Khairil Hisham were selected to represent his team, Felda PBAFB Tech Racing.
The four riders were hand picked from a pool of 300 Felda youths, who attended the selection process held at Pahang, Negeri Sembilan and Selangor since throughout the months of February and March.
"I contemplated about retiring for a very long time. Part of me wants to continue racing but at the same time I need to think about my future. With that, I have decided to say goodbye to racing and focus on my team. This is one of the hardest decision I have had to make but I believe it is for the best," said Fuad.
A man of steel, Fuad is among the most accomplished racer in the paddock with three CP130/Expert title to his name- a title short from M.Meganathan who won four. The 34-year old won his first championship in 2002, his second in 2009 and his third and final crown last season by a slim margin over contender, Norizman Ismail.
However, Fuad never got the chance to compete in the world championship due to his age. Even so, he insisted he has no regrets and that he was proud to be part of the grid that moulded Azlan Shah Kamaruzaman, Mohd Zamri Baba, Hafizh Syahrin Abdullah and Mohd Ramdan Rosli into world-class riders.
"I've experienced many high and lows throughout my career and for sure I will miss the close battles. At the same time, I can retire proudly having won the championship three times," he said.