29 Jun

CUB PRIX ROUND 5: PRACTICE REPORT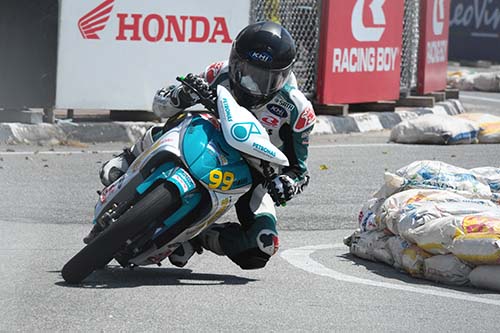 Youngster, Mohd Ramdan Mohd Rosli had a positive outing in the CP130 opening practice of Round 5 of the PETRONAS AAM Malaysian Cub Prix Championship held at Teluk Intan, Perak today.
The PETRONAS Syntium Moto Yamaha AHM rider became the best Yamaha man in the premiere class as he registered third quickest in the timed practice sessions behind pace setter, Mohd Zaqhwan Zaidi and Mohd Affendi Rosli.
Ramdan clocked his best time in his fourth lap with 57.552s while Zaqhwan leads with 57.081s. Affendi meanwhile timed 57.281s.
"I was hoping to grab the fastest lap time but it was really challenging trying to go any faster because certain turns are narrowed down to reduce speed as a safety measure. Nevertheless, I am still pleased with the results from today. After talking to the mechanics, we might make some slight changes to the bike setup and hopefully it can help me secure a front row start in tomorrow's SuperPole," said Ramdan.
Besides Ramdan, other Yamaha representatives who qualified for the SuperPole on Sunday includes Mohd Adli Salihin and Mohd Zamri Baba of PETRONAS Yamaha -CKJ, Ahmad Fazrul Sham of Faito Yamaha Motobert Racing and Abdul Muhaimin Roslan of Yamaha Maju Motor Racing.
CP115
2012 WIRA Champion, Mohd Hafiz Nor Azman left rivals trailing as he blazed to the fastest lap in the CP115 category.
The PETRONAS Syntium Moto Yamaha AHM rider edged defending Champion, Mohd Amirul Ariff Musa to secure top spot in the intermediate timesheets with 58.622s while the latter had to be content in second place, 58.691s.
Third fastest was Muar (Round 4) winner and current Championship leader, Ahmad Afif Amran (PETRONAS Yamaha- CKJ) with 59.060s.
Although pleased with his lap time, Hafiz insisted there is still room for improvement.
"We had a fruitful practice but I do not think we are that far off ahead of the others, especially Amirul who is just 0.069 seconds slower," he said.
Hafiz went on to add, "The bike was performing really well thanks to the mechanics and I was able to post competitive lap times consistently. But my riding is still far from perfect. The layout has changed a bit and I need to find a better corner entry and exit points."
WIRA
WIRA Championship leader, Mohd Hafiza Rofa gave early warning to rivals he is determined to secure another victory at Teluk Intan after he lapped in the fastest lap in the timed practice session today.
The Warner Pumps-YSP rider who has earned three wins so far clocked in his best lap at 1'00.081s ahead of teammate, Mohd Shafiq Rasol in second place and Mohd Zulfakhri Rosli third each with a personal best of 1'00.282s and 1'00.425s respectively.
"My goal this weekend is to redeem my defeat in Muar. Not only am I determined but the team have prepared a competitive bike which helped me register  the fastest lap today," said Hafiza.
Yamaha 135 Super Series PETRONAS
Kasma Daniel Kasmayuddin was quoted saying he will try to bring about changes to the results this time especially since Mohd Azam Omar has been dominating all the rounds except Muar, Johor.
Kasma has one close call of being the fastest rider of the day. Though he may be small in size, he makes up for it in pose and style as this little Johor born rider looked a little bit bigger on his bike.
He made second fastest in 1:02.079s, about half a second slower than fastest rider of the day, Mohd Azam Omar in 1:01.576s. The dry track condition made it perfect for these Yamaha 135 Super Series riders as they catapulted straight away from the start treating the session like the actual race.
Third fastest rider was Mohd Fariz Ahmad Faizal. Freshh off training camp, Fariz did quite well clocking in 1:02.729s ahead of Mohd Shafiq Ezzariq and Mohd Helmi Azman.
Two other favorites of the challenge, Mohd Ibrahim Mohd Norrodin and Mohd Khairul Ikhwan Ajis did not make it into top five fastest as they were still struggling with the track and their machines. Khairul Ikhwan went sixth fastest while Ibrahim went ninth.
For more info and results, please visit www.malaysiancubprix.com