23 Jun

CUB PRIX ROUND 5: AMIRUL TO TAKE AGGRESSIVE APPROACH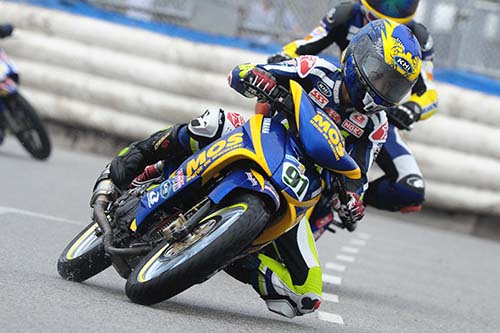 Amirul Hakim Mohd Rizal hopes to get his WIRA title challenge back on track by taking an aggressive approach in the upcoming round of the PETRONAS AAM Malaysian Cub Prix Championship at Teluk Intan, Perak this weekend.
The Mos Track Pro Yamaha Racing rider enjoyed a competitive start to the season coming in fourth in Batu Kawan but has since lost ground following a poor run in Malacca (Round 2) and Terengganu (Round 3) where he finished 10th and 12th respectively.
It was not until the recent race in Muar the 16-year old bounced back to finish fifth.
As a result, Amirul currently sits in fifth overall in the WIRA standings with 36 points, a 59 points disadvantage from leader, Hafiza Rofa (Warner Pumps – YSP) who leads with a whopping 95 points.
Second overall comes in Khairul Idham Pawi with 61 points followed by Mohd Syafiq Rosli third, 56 points.
"Honestly, we are not where we expected to be when we kicked off our campaign. Despite a strong strong start to the season, a poor performance on my end in Malacca and Terengganu gave rivals the opportunity to continuously pick up maximum points and create a massive gap in the standings," said Amirul.
He went on to add, "In order to counter this scenario, I will be taking an aggressive approach for this weekend's race. Hopefully this way I can finally end my podium drought and bridge the point gap with the frontrunners. I am quite confident because the team has prepared a competitive setup for the bike."
For more info and results, please visit www.malaysiancubprix.com