08 Jun

CUB PRIX ROUND 4: TIMED PRACTICE REPORT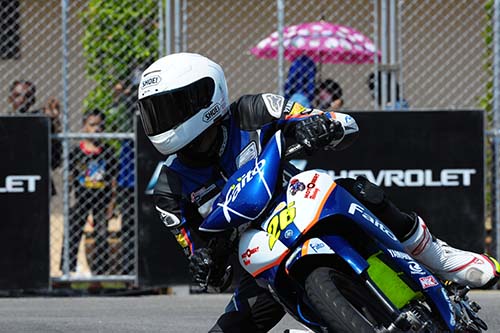 CP130
Yamaha seniors, Ahmad Fuad Baharudin and Mohd Zamri Baba enjoyed a strong start to the opening practice of Round 4 in Muar, Johor as both riders registered among top three fastest riders in the premiere class today.
Fuad representing Faito Yamaha Motobert clocked the second fastest time in the premiere CP130 class with 41.224s, just 0.078 seconds short from Mohd Zaqhwan Zaidi who topped the time sheets with a new lap record of 41.146s.
Zamri meanwhile settled for third. The PETRONAS Yamaha – CKJ rider logged in his best lap time at 41.302s.
Other Yamaha riders who qualified for the SuperPole tomorrow includes Mohd Ramdan Mohd Rosli (PETRONAS Syntium Moto Yamaha AHM) who was sixth fastest with 41.344s and Motul Yamaha YY Pang duo, Mohd Azhar Abdul Jalil and Mohd Adib Rosley, seventh and eighth quickest, 41.505s and 41.565s respectively.
CP115
Meanwhile, Mohd Hafiz Nor Azman became the fastest Yamaha rider in the CP115.
The PETRONAS Syntium Moto Yamaha AHM rider registered second quickest in the intermediate category having posted his best lap time at 42.112s followed by Motul Yamaha YY Pang's Tengku Amirul Haffiruddin third, 42.143s.
Topping the time sheets was Fakhrusy Syakirin Rostam with 41.832s.
WIRA
Separately, Warner Pump – YSP's Hafiza Rofa who is hoping to continue his winning streak in the WIRA class may have to up the ante in Sunday's heat as rival, Khairul Idham Pawi proved he has the better pace in the timed practice sessions.
Khairul Idham went on to be the quickest rider in the age-capped category at Stadium Sultan Ibrahim to log in his best time at 42.553s while Hafiza settled in second place on the time sheets with 42.645s.
Completing the top three was Mohd Adam Norrodin with 42.729s.
Yamaha 135 Super Series PETRONAS
Fresh off a win in Terengganu, Mohd Azam Omar may well be on his way to a fourth podium finish when he became fastest rider in the Yamaha 135 Super Series PETRONAS here in Muar, Johor for the 2013 PETRONAS AAM Malaysian Cub Prix Championship.
In this Timed Practice session, Azam displayed true mettle when he practically blasted his way to the front from the get go. Although the race is only on Sunday, Azam has already displayed a sign of expertise to warn his opponents.
Registering 43.807s, the Terengganu-born rider is currently the only rider in all three one make classes who managed to get a winning streak in three straight rows.
Next was Mohd Iqbal Amri Abdul Malek. Even though he hasn't yet managed a top podium post, this young rider has the consistency to stick with the more leaders. Iqbal made time of 43.912s ahead of Mohd Helmi Azman who is still trying to move up the chart.
For more info and results, please visit www.malaysiancubprix.com