25 May

CUB PRIX ROUND 3: RACE REPORT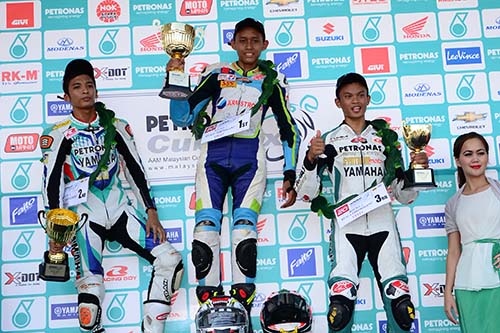 CP130
Round 3 of the PETRONAS AAM Malaysian Cub Prix Championship in Terengganu proved to be a sour outing for Yamaha supported teams as none of it's riders managed to secure the podium in the CP130 category.
Closest to finishing on the podium steps was senior, Ahmad Fuad Baharudin. The Faito Yamaha Motobert Racing rider who came in third fastest in the timed practice yesterday did the best he could to finish fourth with a total time of 12'35.832s behind winners, Mohd Affendi Rosli, Mohd Zaqhwan Zaidi and Azlan Shah Kamaruzaman.
In fact, Fuad was the only Yamaha rider to finish among top five last weekend. Others who made it to the top ten includes Mohd Adib Rosley (Motul Yamaha YY Pang) sixth, Fuad's teammate, Ahmad Fazrul Sham seventh, Ahmad Fazli Sham (Yamaha Maju Motor Racing) and Zulsyafiz Rosli (PETRONAS Syntium Moto Yamaha AHM) 10th.
Another rider who looked capable of finishing on the podium was Mohd Adli Salihin who managed to secure a front row start for the final race. Unfortunately the PETRONAS Yamaha – CKJ rider crashed out in the first lap.
CP115
Things were much better in the CP115 class as PETRONAS Yamaha CKJ's, Ahmad Afif Amran and Mohd Hafiz Nor Azman (PETRONAS Syntium Moto Yamaha AHM) made their presence felt on the podium.
In a heated battle, Afif finished the race second place with a total time of 10'47.320s while Hafiz completed the podium with 10'48.336s after Saturday's fastest Yamaha rider, Mohd Shariffudin Shamsuddin who was running for third crashed at turn one of the last lap.
Winner was Fakhrusy Syakirin Rostam. The 17-year old stole the holeshot from pole man, Mohd Haiekal Akmal Zakaria and went on to lead the race to the checkered flag, ending it within 10'46.983s.
On the bright side, despite not winning the Terengganu leg, Afif remains in control of the CP115 overall standings with 56 points, six points ahead of Fakhrusy while Hafiz sits in third place with 40 points.
WIRA
Hafiza Rofa wrapped up the third round of the season on a high having won his third consecutive WIRA race in front of his home crowd in Terengganu.
The Warner Pumps – YSP rider had a fairly easy outing with only rival, Khairul Idham Pawi to worry about.
The latter however could not sustain his pace due to technical complications to his machine and this allowed Hafiza to pull away and finish the 12 lap race within 8'35.734s followed by Khairul, second with a total time of 8'42.347s.
Hafiza's teammate, Mohd Shafiq Rasol completed the podium in third place with 8'46.996s after a heated battle with Mohd Adam Norrodin.
Bagging 25 points from this leg, Hafiza extends his lead to 75 points in the age-capped WIRA standings followed by Mohd Syafiq Rosli and Khairul Idham with 40 points and 36 points respectively.
Yamaha 135 Super Series PETRONAS
Triple thrill for Mohd Azam Omar in the Yamaha 135 Super Series PETRONAS when he seized his third consecutive win ahead of his home crowd in Terengganu.
After breaking out from the pack and grabbing holeshot, Azam seemed to get a hold of things until Mohd Iqbal Amri Abdul Malek came behind and put pressure on the leader. Iqbal was seen to be on the heels of Azam for most of the laps, even switching places at times.
Unable to go beyond Azam, Iqbal finally kept his composure to stay close second but to further add to his dismay, he was later demoted to third in the 11th hour. Mohd Ibrahim Mohd Norrodin did one swift maneuver that left Iqbal in third and Ibrahim in second.
Azam did his run in 7:30.313s while Ibrahim and Iqbal in 7:30.662s and 7:30.865s.
Podium regular for the season Kasma Daniel Kasmayudin however was not in full swing as he only managed fifth position behind Mohd Helmi Azman. Nazirul Izzat Mohd Bahauddin also had a bad day when he was forced to retire in the third lap due to a crash.
Azam now stands strong in first place overall with 75 points leaving a 24 points gap to second place Ibrahim. Kasma is still a close contender in third with 47 points.
For more info and results, please visit www.malaysiancubprix.com