08 Sep

ARRC ROUND 5:RACE REPORT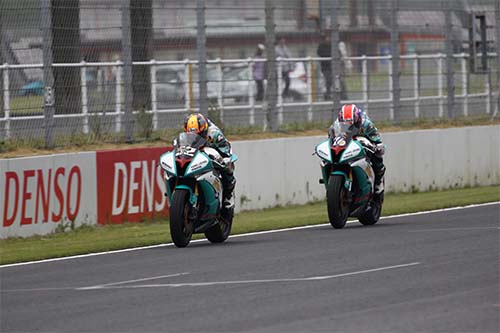 SuperSports 600cc PETRONAS Hong Leong Yamaha wrapped up the penultimate round of the PETRONAS Asia Road Racing Championship on a positive note as lead rider, Mohd Zamri Baba secured a double top five finish in the SuperSports 600cc class despite being diagnosed with a minor concussion.
Zamri who started fifth on the grid completed Race 1 fourth in within 23'02.773s behind winner, Katsuaki Fujiwara (22'55.198s), second placer Shinichi Nakatomi (22'55.260s) and Azlan Shah Kamaruzaman third (22'55.294s).
A similar formation took place in Race 2, only this time Zamri completed the 12-lap race within 22'59.836s while Fujiwara secured a home run with another victory with 22'56.852s. Nakatomi and Azlan locked the podium with 22'57.256s and 22'57.671s respectively.
Making things sweeter, Zamri's Japanese teammate, Yuki Ito put on an impressive show to finish both races in fifth place with 23'02.838s in Race 1 23'01.431s in Race 2.
Bagging 22 points from this leg, Zamri retains his third overall position in the SuperSports 600cc standings with 120.5 points while Azlan continues to lead with 178 points.
Underbone 115cc Meanwhile Hong Leong Yamaha's Underbone 115cc representative, Ahmad Afif Amran found himself drifting further away from title contender, Hadi Wijaya in the overall standings.
Afif was hoping to secure a double podium and reduce the gap with his Indonesian rival but a wrong setup in Race 1 saw him finished sixth with 17'02.069s while compatriots, Mohd Rozaiman Mohd Said and Mohd Amirul Ariff Musa took a one-two finish with 17'01.390s and 17'01.426s respectively. Harlan Fadhillah completed the top three with 17'01.433s.
Disappointed to miss the podium, Afif returned stronger in Race 2 to where he successfully finished third with 16'54.621s behind of Hadi Wijaya who timed 16'54.596s and Kazuki Masaki second, 16'54.601s.
Picking up 25 points from this round, Afif maintains his second overall position in the standings with 149 points, 30 points behind Hadi who leads with 179 points.
The final round of the 2013 PETRONAS Asia Road Racing Championship will take place at the Losail International Circuit, Qatar in June.
For more info and results, please visit www.asiaroadracing.com