05 Sep

ARRC ROUND 5:ADIB PLEASED WITH SUZUKA PROGRESS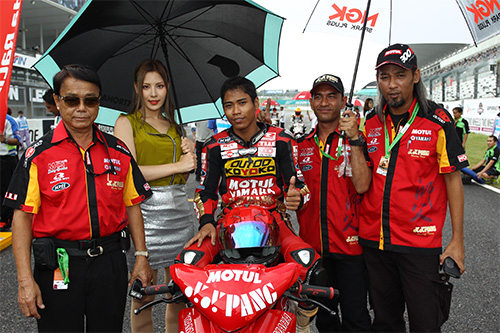 Mohd Adib Rosley admitted he has gained a significant amount of confidence following his strong run at the Suzuka Circuit recently and he hopes to carry the momentum to the penultimate round of the PETRONAS Asia Road Racing Championship in Japan this weekend.
At the Suzuka Circuit last weekend, the Outdo Koyoko Motul Yamaha YY Pang rider shocked Underbone 115cc rivals to consistently lap in competitive lap times in the practice session and secure a second row start in the qualifying.
Not just that, Adib went on to impress in Race 1 where he finished a strong fourth, his best result of the season so far.
The 18-year old was hoping to land another top five finish in Race 2 but an engine failure forced him to retire with one more lap to go.
"I am really happy that our misfortunes are finally coming to an end," said Adib.
"This gives me the confidence ahead of Autopolis this weekend," he added.
When asked what contributed to his strong performance in Suzuka, Adib commented, "The engineers did a great job setting up the bike. It is faster compared to the first three legs this season and much easier to ride. Furthermore, I think the fuel we use here is of higher quality and this contributes a lot to the increased performance of the bike."
He went on to talk about his targets at Autopolis and said, "Given the amount of confidence we gained, I'm hoping to put an end to my podium drought this weekend. Of course, it will be an uphill task but I am certain if we continue to work the way we did, nothing is impossible."
For more info and results, please visit www.asiaroadracing.com