30 Aug

ARRC ROUND 4:RAMDAN IN NO RUSH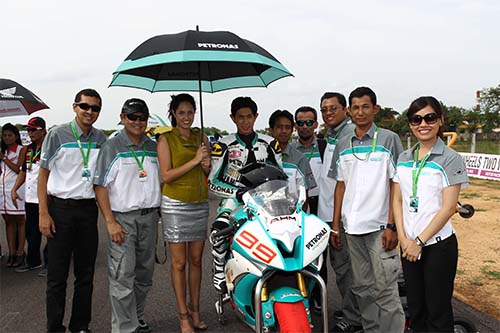 SuperSports 600cc rookie, Mohd Ramdan Rosli said he is in no rush to prove a point as he prepares for the fourth round of the PETRONAS Asia Road Racing Championship at the Suzuka International Circuit in Japan this September 1st.
For the 17-year old, it takes at least three years to fully develop the skills and knowledge to fight for the podium and bag maximum points.
He also pointed out seniors such as Mohd Zamri Baba (PETRONAS Hong Leong Yamaha), Azlan Shah Kamaruzaman (Musashi Boon Siew Honda Racing) and Hafizh Syahrin Abdullah (PETRONAS Raceline Malaysia) all took a similar path.
"2013 is my second full season competing in the SuperSports 600cc so I am not in the rush to prove anything just yet," he said.
"Unlike underbone machines, adapting to 600cc bike needs a longer time frame, usually a minimum of three years so my focus in every round is to just reduce my lap time, measure where I stand against the field and improve from there," added the Klang born rider.
Furthermore, Ramdan made clear unlike factory-supported camps, PETRONAS AHM Malaysia is a privately owned team and everything regarding the SuperSports 600cc machine is a learning process.
"Not just me but the team is also relatively new to the SuperSports 600cc and often we find ourselves struggling in search of setup because we lack relevant data. Fortunately, the engineers are very optimistic and in every round they do their best to gather what they can and compare it with the other teams to see what works and what doesn't."
Talking about his expectations for this weekend's race at the iconic Suzuka Circuit, Ramdan commented, "Suzuka is a world class circuit so naturally I am very excited. Hopefully I can take advantage of it's technical layout and try to make the top 10 cut and score valuable championship points," said Ramdan who had only scored 0.5 points from the past three rounds.
For more info and results, please visit www.asiaroadracing.com