01 Sep

ARRC ROUND 4:RACE REPORT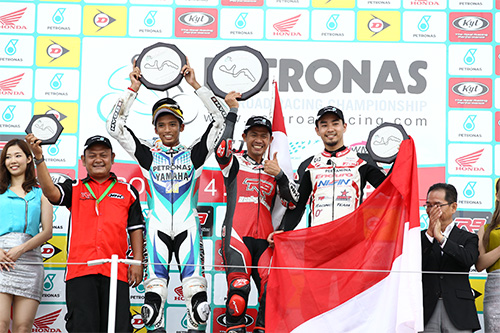 The inaugural round of the PETRONAS Asia Road Racing Championship at the iconic Suzuka International Circuit, Japan marked a bittersweet outing for Hong Leong Yamaha supported teams.
In the premiere SuperSports 600cc, PETRONAS Hong Leong Yamaha's Mohd Zamri Baba was hoping to continue his podium streak at the 5.821 kilometre circuit with the new Dunlop Unbeaten-03 tyres but a poor setup saw the 30-year old struggle for a good pace throughout the race instead.
As a result, the Suzuka leg marked Zamri's lowest point this season so far where he finished 11th in Race 1 and ninth in Race 2 with a total time of 16'23.645s and 29'35.369s respectively.
"Things did not go as expected at Suzuka," said a disappointed Zamri.
"We hoped the new Dunlop tyres would help level us against Suzuka regulars but our plan backfired when we could not find the right balance between engine and suspension setup to maximize tyre grip. In the end, we did the best we could to finish within the points, " he added.
Winning both races was wild car entry, Shinichi Nakatomi.
Nakatomi, a former World Superbike Championship rider and representing RC Koshien, won the red-flagged Race One in 16:09.599. Azlan Shah Kamaruzaman settled for second place in 16:09.852 while Japanese Katsuaki Fujiwara finished third in 16:09.987. The race was cut short due to several crashes on the slippery track.
Nakatomi went on to prove his win was not a flash in the pan by winning Race Two with a comfortable margin. He clocked 29:11.274, a good 4.680 seconds faster than Fujiwara's 29:15.954. Azlan settled for third in 29:16.186.
As if Zamri's woes with his bike were not enough to contend with, title contenders Azlan and Fujiwara's impressive run saw both riders extend their lead in the overall standings.
Azlan now pilots with 146 points followed by Fujiwara second with 108.5 points. Zamri who managed to pick up just 9.5 points in Suzuka sits in third with 94.5 points.
"Its quite upsetting thinking about our outing last week but it's all done and dusted. We now have to look forward to Autopolis next weekend."
"Similar to Suzuka, this is another technical circuit but we are in a better place because we have a lot of data having raced here for the past four years and hopefully, this will help the engineers rectify the grip issues we suffered with the bike," said Zamri.
Talk about his targets at the Autopolis Circuit he commented, "I am at a 51.5 points disadvantage from Azlan so a double podium is a must. I can't afford to lose out on valuable championship points anymore and if there is a chance for victory, I will not hesitate to take it," concluded Zamri.
UNDERBONE 115
Meanwhile Hadi Wijaya outgunned PETRONAS Hong Leong Yamaha's Ahmad Afif Amran to become the new ringleader in the Underbone 115cc class.
The Indonesian ace who now leads with 144 points capitalized on Afif's early retirement in Race 1 to pull away in the standings by finishing the 14-lap race third, 15'19.254s.
Winning Race 1 was Mohd Affendi Rosli with a total time of 15'19.032s followed by Amirul Ariff Musa second, 15'19.243s.
Hadi stepped up his game to claim his first victory for the season in Race 2 in a photo finish against Afif. Hadi timed 15'07.392s while the latter completed the race just 0.050 seconds later (15'07.442s).
Third came in Harlan Fadhillah, 15'07.674s.
With Hadi now on top of the chart, Afif drops down to second overall with 124 points, while Affendi's teammate, Norizman Ismail holds third place, 104 points.
For more info and results, please visit www.asiaroadracing.com