11 Jul

ARRC ROUND 3: ZAMRI TAKES SAFE APPROACH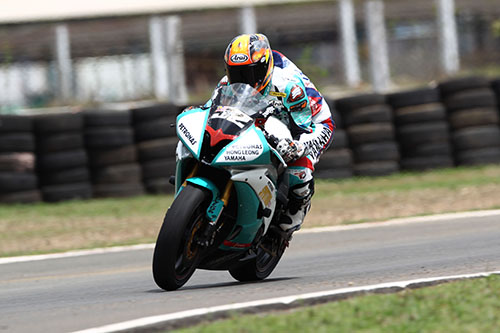 Mohd Zamri Baba says he will be taking a safe approach to the third round of the 2013 PETRONAS Asia Road Racing Championship in Chennai, India this 12 to 14 July.
Despite winning the previous round in Indonesia, the PETRONAS Hong Leong Yamaha believes it is still too early for him to be taking any risks in the SuperSports 600cc race this weekend as he still has a 29 point deficit to make up for from Championship leader, Azlan Shah Kamaruzaman who leads the overall standings with 90 points.
"If we had good results in Sepang (Round 1), I would not mind taking some risks and try to win in Chennai but sadly, that was not the case. While I managed to finish third in Race 1, my run was marred with a DNF in Race 2 due to technical errors."
"Fortunately, things were better in Indonesia (Round 2) where I finished second in Race 1 and won Race 2 which helped reduce the gap. Even so, it is still not enough so I have to pick up as many points possible in Chennai," said Zamri who is currently third overall in the standings with 61 points.
Although not willing to gamble his chances, the 30-year old maintains an optimistic mindset he stands a strong chance to land a podium finish again this weekend as he holds a good track record at the Madras Motor Race Track (MMRT).
"I've had pleasant memories in Chennai to finish all the races here in 2009, 2010 and 2011 among top three and this gives me the confidence to fight for the podium again this Sunday. Furthermore, the circuit is physically demanding and I believe I hold a slight advantage in that sense because I've always payed a lot of attention to my fitness," he said.
For more info and results, please visit www.asiaroadracing.com