17 May

ARRC ROUND 2: PRACTICE REPORT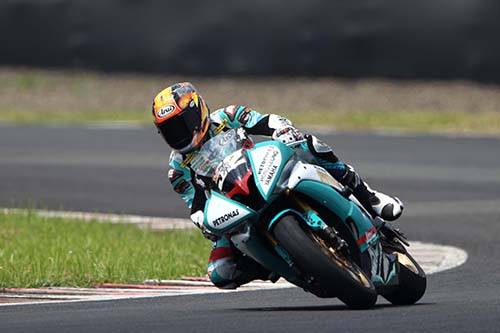 Mohd Zamri Baba made his presence felt in Round 2 of the 2013 PETRONAS Asia Road Racing Championship to come in among the top three fastest riders in the SuperSports 600cc practice sessions at the Sentul International Circuit, Indonesia today.
The PETRONAS Hong Leong Yamaha rider wrapped up the day second quickest with a best lap of 1'30.972s after spending the entire morning session picking up mileage to his reconditioned Yamaha.
Topping the timesheets was Indonesian, M.Fadli with 1'30.648s while Azlan Shah Kamaruzaman registered third, 1'31.194s.
"We wanted to avoid another Sepang meltdown so we used the morning practice and half of the evening practice to pick up mileage and make sure the new parts installed to the engine are working properly. Once the engineers gave me the green light to start pushing, I went hard on the throttle," said Zamri.
"With a new engine, usually it would be hard to get a good lap time but the engineers prepared a strong suspension and this gave me the advantage to quickly close the gap with Fadli. All in all, we had a very positive outing today."
Zamri went on to talk about his expectations and commented, "Although we have a strong pace we can't afford to take things easy, especially now that I have 29 points to catch up. I'll rest when the weekend is over but for now I want to keep improving in every element of the race," said Zamri who is currently placed eight overall with 16 points.
Similarly, Ahmad Afif Amran enjoyed a strong start in the Underbone 115cc category. The PETRONAS Hong Leong Yamaha rider improved his time of 2'01.628s in FP1 to 1'59.204s in FP2.
Outdo Koyoko Motul Yamaha Racing duo, Mohd Adib Rosley and Mohd Azhar Abdul Jalil on the other hand clocked their best lap of 2'00.7617s and 2'03.110s in FP2.
For more news and results, visit www.asiaroadracing.com