05 Nov

ARRC RD05: FAZLI BANKING ON AFFEND'S ASSISTANCE IN THAILAND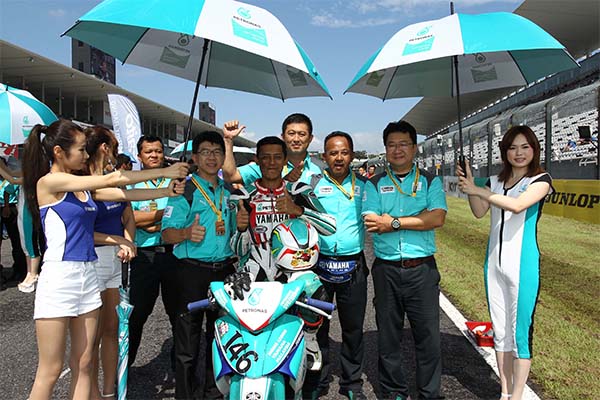 Ahmad Fazli Sham believes his Yamaha teammate, Mohd Affendi Rosli will be on hand to help him secure maximum points and keep his Underbone 130cc title hopes alive ahead of this weekend's PETRONAS Asia Road Racing Championship at the Chang International Circuit (CIC) in Thailand.
The PETRONAS Hong Leong Yamaha rider arrives at the 4.554 kilometre track in third overall and 20 points adrift Gupita Kresna who leads the championship standings with 115 points while Affendi is ranked seventh overall with 76 points.
Confident of getting the support he needs from his teammate, Fazli said, "I know I can count on Affendi to ward off Gupita. We have been perfect partners throughout the season and now is the time I need him the most. It's do or die for us this weekend or we might lose out on bringing back the Underbone 130cc home."
Fazli added, "We both have it in us to win another 1-2. We did it once in opening round and I hope to able to repeat that same performance in Thailand. The crew have been rallying behind us all the way and I feel this should provide a strong basis for us."
2014 has proven to be a good year for Fazli so far, and the 32-year old rider is enjoying a renaissance in the Asian Championship following a three year hiatus.
Initially a wildcard entry in Round 1 (Sepang), the seasoned campaigner showed tremendous form to pick up a win and two podium finishes from the first four rounds this season to become the second best Malaysian in the Underbone 130cc standings after Norizman Ismail in second overall.
For more news and results please visit www.asiaroadracing.com