07 Sep

ARRC RD04:RACE REPORT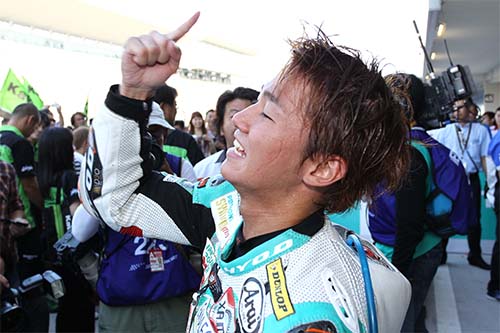 Japan's Katsuaki Fujiwara capitalized on Mohd Zamri Baba's absence and moved into the SuperSports 600cc lead with 132 points after a hard fought victory and a podium in Round Four of the PETRONAS Asia Road Racing Championship at the Suzuka Circuit on Sunday.
It was also a joyous day for Yuki Ito (PETRONAS Hong Leong Yamaha) who successfully claimed his career's first win after securing his maiden pole position in the qualifying yesterday.
Fujiwara won Race 1 in an action-packed battle with Yuki, Mohd Zaqhwan Zaidi and Makoto Tamada. The four riders swapped leads aggressively throughout the race before Fujiwara got the best of his competitors at the second last turn, wrapping it up in 29'23.968s.
Tamada finished 0.129 seconds later with 29'24.097s followed by Tomoyoshi Koyama who nicked the final podium step with 29'25.196s.
Having finished fifth in Race 1, Yuki returned bigger and stronger for Race 2 where he dominated the 13-lap race, fending off Zaqhwan and Koyama. The 22-year old completed Race 2 as champion in 29'12.812s followed by Fujiwara and Koyama with 29'20.275s and 29'20.688s respectively.
Meanwhile Gupita Kresna maintains his lead in the Underbone 130cc standings despite not finishing any of the races on the podium.
Race 1 podium instead was dominated by Mohd Amirul Ariff Musa taking the chequered flag in 16'47.615s after initial winner, Ferlando Herdian's result was disqualified following a technical infringement.
Automatically Amirul's teammates, Mohd Rozaiman Mohd Said and Taiga Hada who finished with 16'48.331s and 16'52.536s moved up to second and third respectively.
As for Race 2, Kazuki Masaki gave his supporters something to cheer when he took victory with 16'48.821s, ahead of seasoned contender, Norizman Ismail with 16'48.885s followed by Ferlando Herdian third, 16'48.956s.
Gupita leads the Underbone 130cc standings with 115 points followed by Norizman with 104 points and Ahmad Fazli Sham (PETRONAS Hong Leong Yamaha) with 95 points.