05 Sep

ARRC RD04:PRACTICE REPORT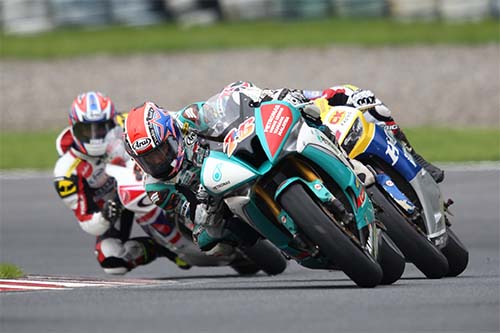 The Japanese riders were clearly at home at their iconic Suzuka Circuit as the first day of practice went underway for Round 4 of the 2014 PETRONAS Asia Road Racing Championship being held from September 5 to 7, 2014.
Team PETRONAS Hong Leong Yamaha's Yuki Ito brought home the fastest time of the first day's practice in the SuperSports 600cc class when he stopped the clock at 2'15.030s.
"Today's time is still far from my personal best at this circuit. During the All Japan, I managed to clock within the 2'12 range. Because of that, I am confident that lap times will drop further by qualifying," said Ito.
Split seconds off Ito's pace, Katsuaki Fujiwara posted the second fastest time of the day with 2'15.466s.
"The track hosted the Super GT last week and the track is still a little bit dirty. With more track time for the bikes, the track conditions will certainly improve. For sure, today's time was not so impressive," Fujiwara agreed with Ito.
While Ito and Fujiwara are provisionally the front runners from the first day, Malaysian youngster Mohd Zaqhwan Zaidi also showed his potential to qualify for the front row when he chalked up the third fastest time of the day, 2'15.535s.
In the Underbone 130cc category, championship leader Gupita Kresna Wardhana emerged fastest from the second free practice session after nothing up a time of 2'46.190s.
Ahmad Fazrul Sham was second fastest with 2'47.977s followed by Hokky Krisdianto of Outdo Koyoko Motul Yamaha YY Pang with 2'48.090s.