20 Apr

ARRC RD01:RACE REPORT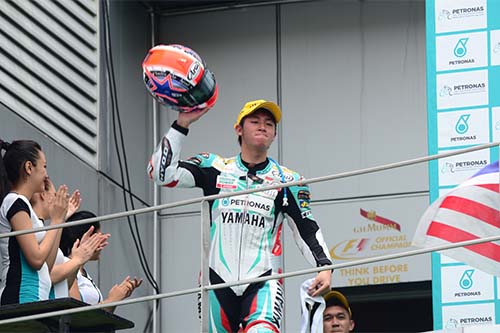 SUPERSPORTS 600CC
The Malaysian PETRONAS Asia Road Racing Championship race day saw contrasting outcomes for Hong Leong Yamaha but still positive nonetheless.
Held at the Sepang International North Circuit, Race 1 saw both Yuki Ito and Ahmad Fuad Baharudin mixing it up at the front of the SuperSports 600cc field with their respective Yamaha YZF-R6. While Yuki was able to keep his form until the end of the race and finish second on the podium, Fuad gradually dropped down the order with 17 laps remaining and finished 13th.
Yuki completed the grueling 25 lap race in 27'39.471s, just half a second off Mohd Zamri Baba with 27'38.920s. Katsuaki Fujiwara rounded off the podium steps with 27'40.605s.
Zamri went on to mastermind one of the best races of his career to trail and nick away the victory flag from Fujiwara in the final moments of Race 2. He completed the race with 27'28.232s while Fujiwara was forced to be content in second place (27'29.004s) and Makoto Tamada third (27'29.004s).
Yuki who was again fighting with the frontrunners was forced to retire in lap-18 due to a loose chain while Ahmad Fuad finished 16th.
Rookie, Ahmad Afif Amran finished Race 1 21st and improved by two positions in Race 2.
UNDERBONE 130CC
Ahmad Fazli Sham proved he still has what it takes to compete against his Asian level peers as the poleman took the lead in the standings having finished fifth and first in Race 1 and Race 2 respectively.
In Race 1, Honda's Norizman Ismail fired off the first salvo with 19'53.202s followed by Kawasaki KYT Rextor Manual Tech's Gupita Kresna (19'53.223s) and T.Pro Yuzy Honda's Mohd Rozaiman third (19'53.415s).
Norizman was hoping to repeat another podium in Race 2 but his efforts were hampered by a broken exhaust pipe early in the race. The team managed to have the problem resolved in time for Norizman to re-join the race, but by then, he was already two laps behind. Norizman eventually retired with four laps remaining on the race clock.
Fazli Sham made full use of his compatriot's absence to secure a victory with 19'31.432s ahead of teammate Mohd Affendi Rosli (19'31.633s) and Rozaiman (19'32.710s).
The PETRONAS Hong Leong Yamaha rider leads the standings with 36 points followed by Affendi with 33 points and Rozaiman third, 32 points.
Results SuperSports 600cc Race 1 1.Mohd Zamri Baba (Honda) 27'38.920s 2.Yuki Ito (Yamaha) 27'39.920s 3.Katsuaki Fujiwara (Kawasaki) 27'40.605s 4.Makoto Tamada (Honda) 27'42.378s 5.Ratthapong Wilairot (Honda) 27'44.642s
Race 2 1.Mohd Zamri Baba (Honda) 27'28.232s 2.Katsuaki Fujiwara (Kawasaki) 27'28.314s 3.Makoto Tamada (Honda) 27'29.004s 4.H.A Yudhistira (Kawasaki) 27'33.845s 5.Mohd Zaqhwan Zaidi (Honda) 27'35.863s
Overall Standings 1.Mohd Zamri Baba (Honda) 50 points 2.Katsuaki Fujiwara (Kawasaki) 36 points 3.Makoto Tamada (Honda) 29 points 4.H.A Yudhistira (Kawasaki) 23 points 5.Yuki Ito (Yamaha) 20 points
Team Standings 1.Musashi Boon Siew Honda Racing 50 points 2.BEET Kawasaki Racing 36 points 3.Manual Tech KYT Kawasaki Racing 23 points 4.PETRONAS Hong Leong Yamaha 20 points 5.AP Honda Thailand 18 points
Underbone 130cc Race 1 1.Norizman Ismail (Honda) 19'53.202s 2.Gupita Kresna (Kawasaki) 19'53.223s 3.Mohd Rozaiman Mohd Said (Honda) 19'53.415s 4.Mohd Affendi Rosli (Yamaha) 19'53.525s 5.Ahmad Fazli Sham (Yamaha) 19'53.682s
Race 2 1.Ahmad Fazli Sham (Yamaha) 19'31.432s 2.Mohd Affendi Rosli (Yamaha) 19'31.633s 3.Mohd Rozaiman Mohd Said (Honda) 19'32.710s 4.Vorapong Malahuan (Honda) 19'33.145s 5.Sasitahren Sukumaran (Honda) 19'33.179s
Overall Standings 1.Ahmad Fazli Sham (Yamaha) 36 points 2.Mohd Affendi Rosli (Yamaha) 33 points 3.Mohd Rozaiman Mohd Said (Honda) 32 points 4.Gupita Kresna (Kawasaki) 30 points 5.Norizman Ismail (Honda) 25 points
Team Standings 1.PETRONAS Hong Leong Yamaha 38 points 2.T.Pro Yuzy Honda 32 points 3.Kawasaki KYT Rextor Manual Tech 30 points 4.Harian Metro Y-TEQ SCK Honda Racing 25 points 5.Thai Honda Racing 18 points