19 Apr

ARRC RD01:QUALIFYING REPORT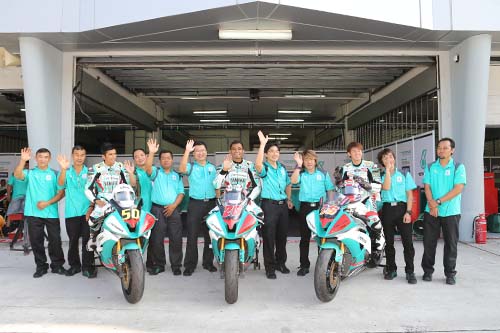 SUPERSPORTS 600CC
PETRONAS Hong Leong Yamaha had a bad day at the office as both experienced riders, Yuki Ito and Ahmad Fuad Baharudin failed to secure a front row start in the SuperSports 600cc qualifying sessions at the Sepang Circuit on Saturday.
Yuki who came in third quickest in the practice sessions struggled with setup issues and could only qualify seventh with 1'05.672s while Fuad came in ninth with 1'05.810s. Both riders will start Sunday's race from third row with Indonesian, M.Fadli sandwiched between them.
Meanwhile Katsuaki Fujiwara will start the race from pole having posted the fastest lap time in 1'05.184s with Honda's Zamri Baba and Makoto Tamada locking out the front row with 1'05.326s and 1'05.385s respectively.
Zaqhwan who showed impressive form is set to take off from second row alongside Thailand's Rathhapong Wilairot and Yudhistira of Indonesia.
Yamaha's rookie, Ahmad Afif Amran registered 22nd with 1'06.891s.
UNDERBONE 130CC
Things were better for PETRONAS Hong Leong Yamaha in the Underbone 130cc as Ahmad Fazli Sham will start Sunday's race from pole, heading the front row ahead of Mohd Affendi Rosli and Honda's Mohd Amirul Ariff Musa.
Fazli Sham outpaced Affendi by 0.011 seconds for the top spot with 1'20.971s but his teammate was still pleased to be on the front row with 1'20.980s.
Both Yamaha riders were the only ones out of 19 contending riders to post their quickest lap under one minute 21 seconds while Amirul rounded up the top three with 1'21.115s.
Amirul's teammate, Sasitharen Sukumaran, Thailand's Vorapong Malahuan and Indonesia's Gupita Kresna will start Sunday's race from second row while Hokky Krisdianto, Kazuki Masaki and Taiga Hada takes off from third.
Qualifying Results SuperSports 600cc 1.Katsuaki Fujiwara (Kawasaki) 1'05.184s 2.Mohd Zamri Baba (Honda) 1'05.326s 3.Makoto Tamada (Honda) 1'05.385s 4.Mohd Zaqhwan Zaidi (Honda) 1'05.524s 5.Ratthapong Wilairot (Honda) 1'05.626s
Underbone 130cc 1.Ahmad Fazli Sham (Yamaha) 1'20.971s 2.Mohd Affendi Rosli (Yamaha) 1'20.980s 3.Mohd Amirul Ariff Musa (Honda) 1'21.115s 4.Sasitharen Sukumaran (Honda) 1'21.190s 5.Vorapong Malahuan (Honda) 1'21.223s