17 Apr

ARRC RD01:AFIF NERVOUS AHEAD OF SS600 DEBUT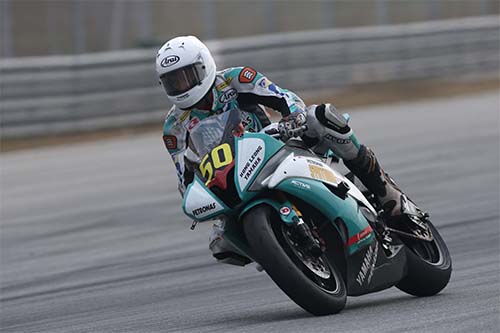 Rookie, Ahmad Afif Amran admitted that he has mixed feeling ahead of his SuperSports 600cc debut in the opening leg of the 2014 PETRONAS AAM Malaysian Cub Prix Championship at Sepang this weekend.
2014 season will be a steep learning curve for the 20-year old, as he lines up alongside a grid filled with world-class riders and eager young guns. Even so, the Terengganu born rider insisted he won't be putting too much pressure on himself and will only ride to the best of his abilities.
Some of Afif's rivals this year include Japan's Katsuaki Fujiwara who won the championship in 2011, Malaysia's Mohd Zaqhwan Zaidi and Mohd Zamri Baba and Indonesian, H.A Yudhistira.
The PETRONAS Hong Leong Yamaha rider was promoted to the premiere class after an impressive run in the Underbone 115cc category last year to which he finished second overall behind Indonesian rival, Hadi Wijaya. While Hadi remains in the Underbone class, Afif has moved on to partner Ahmad Fuad Baharudin and Japan's Yuki Ito in the factory outfit.
"I am going up against some of the best SuperSports 600cc riders in Asia so it's only natural I feel nervous. But to say I am intimidated by them – not really. That however doesn't take away any respect. For me it is crucial to have the mentality that these guys are just another rider, that's the only way I will be able to get up to their level," said Afif.
Talking about his expectations for the upcoming race, he commented, "In the pre-season test I was about three seconds off the fastest man and it's quite clear I have a lot of work ahead of me. But my biggest concern right now is to find the strength to properly control the bike. I am so used to racing the lighter underbone machines that riding a bulky full-frame 600cc bike wears me out easily."
"But I'm not too worried, after all I'm riding for a strong team. Also, I am lucky I can rely on Fuad who has only retired from Cub Prix. In the context of the Asia Road Racing Championship, Fuad will be invaluable as it was he who had helped shape Azlan Shah Kamaruzaman and Mohd Zamri Baba into the fierce competitors they are today."