05 Feb

AFIF RECEIVES YAMAHA SPIRIT OF CHALLENGE AWARD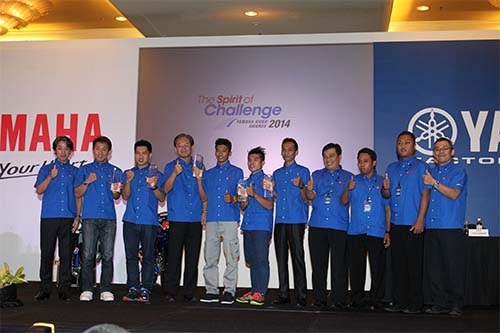 Malaysian, Ahmad Afif Amran gets a confidence boost ahead of the new season as he was presented with the Yamaha Spirit of Challenge Award during the Yamaha Motor Sports Press Conference yesterday.
Held at Sama-Sama Hotel, Sepang, these awards recognize the performance of Yamaha riders from all around the world who have achieved exceptional results in motor sports.
Additionally, Yamaha Motor Co. Ltd intends for these awards to become a source of encouragement for Yamaha supported riders to continue delivering strong results in their respective championships.
Afif received the award following an outstanding campaign last season to which he successfully lifted the CP115 title in the PETRONAS AAM Malaysian Cub Prix Championship and finished as runner up in the Underbone 115cc class of the PETRONAS Asia Road Racing Championship. The 19-year old also claimed the SuperSports 600cc B class title in the Malaysian Super Series (MSS).
Besides Afif, other Asian riders who received the honours were Katsuyuki Nakasuga from Japan, former ARRC challenger Decha Kraisat from Thailand, Vingie Coloma and Sigit Purno Harjono from the Phillipines and Indonesia respectively.
"I am extremely happy and proud to become the first Malaysian to receive this award. It came as a huge surprise as I was told about it just last week," said an overjoyed Afif.
The Terengganu born rider went on to reveal his plans and expectations for the new season, "I have been promoted to the CP130 category for 2014. Naturally, I feel a bit nervous because I will race against riders with a lot more experience but at the same time I am really excited to see what I can achieve in the premiere class and hopefully this award can help lift my spirits."
Speaking about his targets, Afif commented, "The team's primary objective is to see me finish among top five but my personal target is to finish each race with points consistently. We don't know if we can win the championship at this point yet but if the opportunity presents itself, I will definitely take it."