13 Jul

ARRC ROUND 3:QUALIFYING REPORT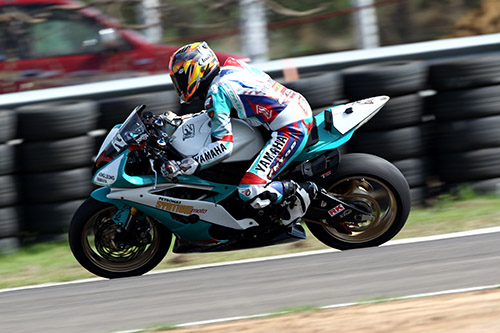 Mohd Zamri Baba ended the SuperSports 600cc qualifying sessions of the PETRONAS Asia Road Racing Championship feeling sour after he failed to secure pole position at the Madras Motor Race Track in Chennai, India.
The PETRONAS Hong Leong Yamaha rider who became the fastest man yesterday found himself under a lot of pressure when compatriot, Azlan Shah Kamaruzaman not only beat his lap record in the third practice session earlier today to replace Zamri's 1'44.025s with 1'43.417 but he also went to better the record in the qualifying session with 1'42.785s
Never to go down with a fight, Zamri tried to match his rival's pace in the 30-minute qualifying but heavy traffic on the track forced the 29-year old to settle for third best with 1'43.593s.
In between Zamri and Azlan stands former MotoGP rider, Makoto Tamada with 1'43.593s.
Although slightly disappointed to miss out on pole, Zamri remains optimistic of his chances in the race tomorrow.
"I am a bit frustrated that things did not go as we expected but on the bright side, we will still start the race from front row. Just that, I need to work extra hard to get ahead of Azlan and Tamada before they pull away," said Zamri who is currently third overall in the SuperSports 600cc standings.
He went on to talk about his expectations for the race tomorrow and said, "Judging by our lap time and how technical the track is we anticipate a very close race. In addition, there is very few opportunities to overtake."
"So consistency is the key here. I need to deliver the same pace I did in the practice sessions and manage the tyres efficiently because the hot weather may deteriorate them faster than usual. Hopefully, I can finish on the podium and reduce the point gap with Azlan tomorrow."
Underbone 115cc
Meanwhile Ahmad Afif Amran successfully erased Harlan Fadhillah's lap record of 1'59.474s to take pole in the Underbone 115cc class.
The PETRONAS Hong Leong Yamaha youngster topped the qualifying session in his second lap with 1'58.672s, lapping in 0.802 seconds faster than his Indonesian rival who clocked his personal best in the third practice session earlier today.
Starting alongside the 18-year old from front row would be defending Champion, Hadi Wijaya (R9 Racing Team) and teammate, Ferlando Herdian who registered their fastest lap at 1'58.703s and 1'59.248s respectively.
"I did not expect to break the lap record here so naturally I am quite pleased. The team did a great job setting up the bike and this helped me ride easier," he said.
Afif added, "With pole position, I want to pull away from the pack early and dash to the finish line. But seeing that this is an underbone race, that would be quite hard to do as usually we are all grouped up. Even so, I am quite confident I can finish on the podium on Sunday."
He went on to comment on his bike and said, "Although the bike is performing quite well, there is still some concern with it's durability. So the team engineers will experiment with the setting tomorrow to try and resolve this issue."
For more info and results, please visit www.asiaroadracing.com