16 May

ARRC ROUND 2: ZAMRI HOPING FOR BETTER LUCK IN SENTUL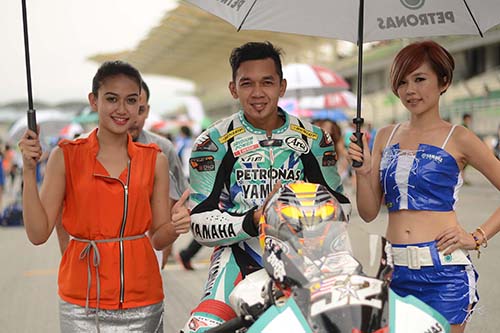 Mohd Zamri Baba is hoping to avoid any technical woes that may affect his SuperSports 600cc campaign in the second round of the 2013 PETRONAS Asia Road Racing Championship in Indonesia this weekend.
The PETRONAS Hong Leong Yamaha rider enjoyed a strong start to the season coming in third in Race 1 at the Sepang Circuit last month and was well on his way to secure another podium in Race 2 but unfortunately his Yamaha overheated after a tough battle with Makoto Tamada, forcing the 30-year old to retire at lap 17.
As a result, Zamri now stands eighth overall on the SuperSports 600cc standings with 16 points, 29 points shy from Azlan Shah Kamaruzaman and Katsuaki Fujiwara who leads with 45 points.
"It was a bitter outing, my machine overheated with only eight more laps to go. If not I could have a stronger footing on the standings now," said a disappointed Zamri.
He went on to add, "It was not anybody's fault however. During post mortem the engineers found a stone had put a hole in the radiator and this caused the bike to overheat. It was totally out of our control and it could have happened to anybody. But this doesn't change the fact it cost me valuable points."
"So I'm hoping lady luck will be on my side this weekend. We can't afford to have anymore technical issues get in our way again because as it is, I am already 29 points behind the leaders and it will be an uphill battle to try and close the gap. Hence I must try my best to finish both races on the podium."
For more news and results, visit www.asiaroadracing.com