30 Jun

ZAMRI SHOWS MARKED IMPROVEMENT IN MUAR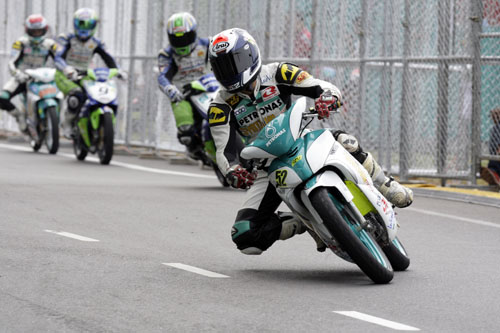 After a lacklustre 2012 season so far, Md Zamri Baba came out with guns blazing as the entire Cub Prix contingent headed to Muar, Johor for Round 6 of the 2012 PETRONAS AAM Malaysian Cub Prix Championship. Determined to crack his podium drought this season, Zamri made good time during the CP130 timed practice session to pace third fastest with a time of 41.497s, 0.325s off the pace of the fastest man Zaqhwan Zaidi.
The PETRONAS Syntium Moto Yamaha Raceline rider was consistently strong throughout the entire day of practice, as was fellow Yamaha rider Ahmad Fazli Sham of team Yamaha Maju Motor Racing who posted the fourth fastest time of 41.556s.
"Qualifying fastest was not my objective as the Saturday timed practice session only determined who would make it into the SuperPole. I am satisfied with the work done today as this is a strong base from which we can now work towards improving my laptimes during the Superpole," said Zamri.
Elsewhere on the track, CP115 defending champion Shahril Izzuwan Md Noor of team PETRONAS Syntium Moto Yamaha AHM logged a time of 42.389s to emerge as the second fastest rider in the intermediary class. Motul YY Pang's Md Adib Rosley, racing in his first full season of the CP115 class was fourth fastest with a time of 42.445s.
"Track conditions were unpredictable all day with intermittent rain causing problems for our mechanics who are working hard to set up the bike. So far, it seems that the fastest times are being set by the CP115A group, which means that there will be all to fight for in the CP115A heat come Sunday morning," said Shahril.
It was in the Wira class that Yamaha's next generation of champions truly shone. Md Hafiz Nor Azman of team Mos Track Pro Yamaha Racing blew away the competition with his fastest laptime of 42.543s, half a second ahead of the second fastest rider, Tengku Amirul Haffiruddin from team Motul YY Pang Racing who stopped the clock at 43.076s.
Meanwhile, in the Yamaha 135 Super Series PETRONAS class, Tengku Amirul Haffiruddin stole the march from championship leader Izzat Zaidi with his fastest time of 44.593s. Izzat ended the day's practice second fastest with 44.825s followed by Nurahmad Fariznazreen who was third fastest with 44.921s.