14 Jun

MCPRD05: SHAM BROTHERS ON COMEBACK TRAIL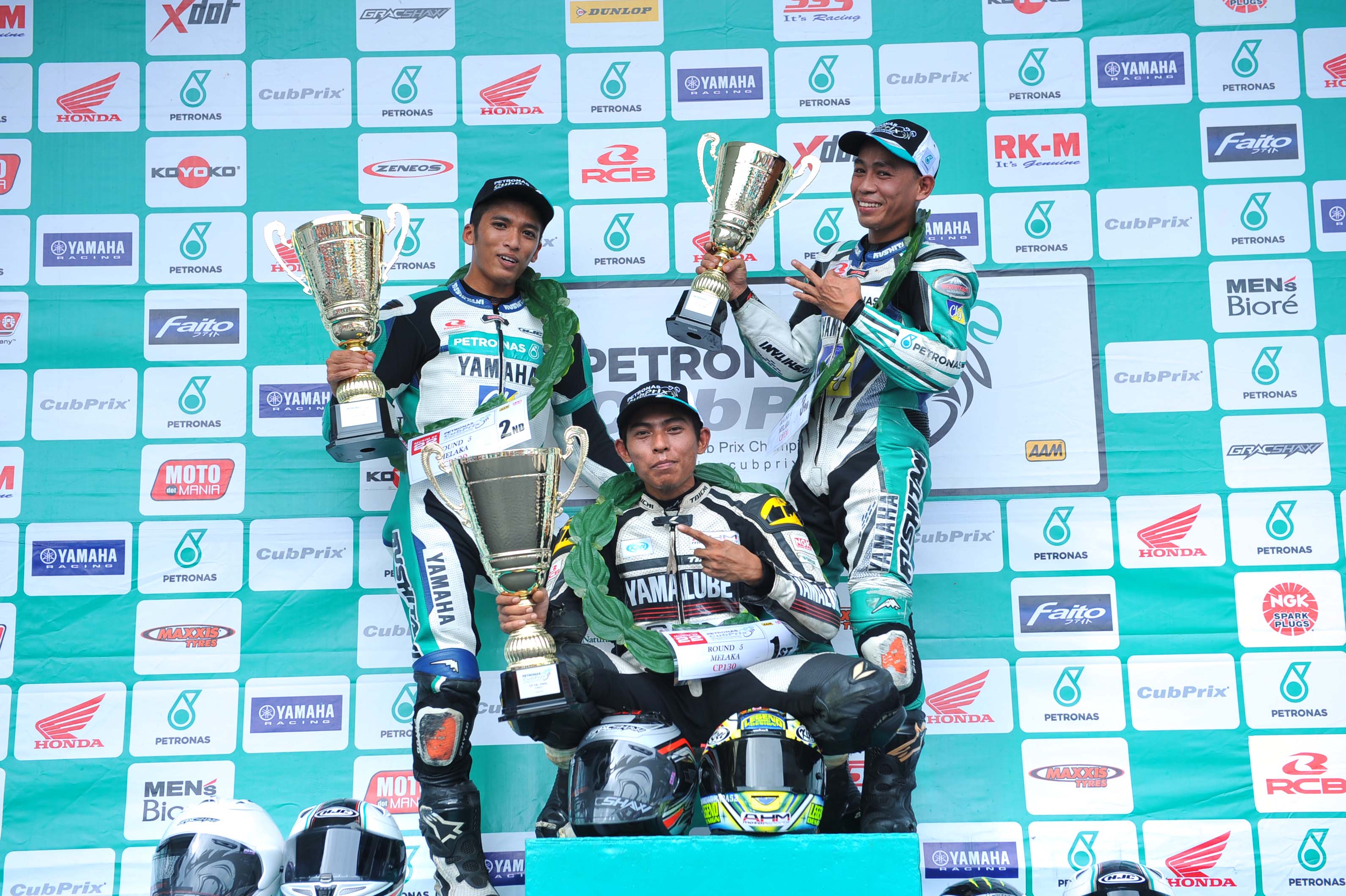 Brothers Ahmad Fazli Sham and Ahmad Fazrul Sham are firmly on the comeback trail as the 2015 PETRONAS AAM Malaysian Cub Prix Championship completes its mid-season round in Melaka on June 13 and 14, 2015. Two weeks after winning Round 4 in Kuala Terengganu, Fazrul Sham was again the dominant factor in the Melaka race.
Starting the CP130 final from pole position, Fazrul needed only a few laps to put his closest competitor, Mohd Affendi Rosli, in his place. From Lap 4 onwards, Fazrul rode an uncontested race at the head of the pack, winning the 19-lap race with a total time of 14'51.226s.
1.869s behind Fazrul, Ahmad Afif Amran gained the upper hand over Affendi and secured the second place with a time of 14'53.095s. Affendi who was strong at the start of the race, managed to hang on to third place with a time of 14'55.306s.
"Although I had the highest of confidence in my team engineers, winning two races back to back was a surprise. It's not an easy feat given how competitive the CP130 class is," said Fazrul.
Zaqhwan Zaidi's return to Cub Prix did not go according to script for the defending champion when he crashed out of the race on Lap 6.
Two consecutive wins put Fazrul at the top of the riders' standings as Cub Prix heads to its customary Ramadhan break. Despite not picking up any points from Round 1, Fazrul's strong performance over the last two rounds has earned him a total of 70 points, 6 points ahead of older brother Ahmad Fazli Sham.
In the CP115 class, Kasma Daniel Kasmayudin was also in a league of his own. Kasma blazed his way past the competition and easily won the CP115 Final with a time of `1'29.403s. Motul YY Pang duo Tengku Amirul Haffirudin and Md Izzat Zaidi grudgingly settled for second and third places respectively with 12'41.063s and 12'44.843s.
Kasma's hattrick of wins has netted him 95 points to date. Tengku Amirul hovers in second overall with 86 points. The two riders are so far ahead in the rankings that the CP115 class is in danger of turning into a two-horse race. Third overall rider, Ahmad Syukran Aizat has only 49 points to his name.
Finally, Md Harith Farhan Baharin aced the Wira Final for the fourth consecutive times this year with a total race time of 11'23.222s Saiful Izman Ahmad Zamani was second with 11'27.714 while Md Khairul Ikhwan Ajis rounded up the winning trio with 11'27.864s.